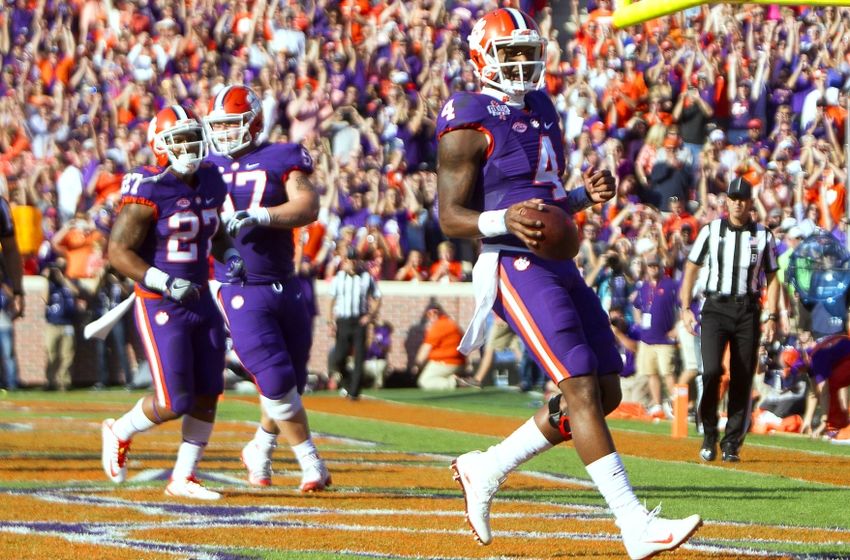 Dece week of college football last week. Just a reminder, we are now going off of the playoff committee's top 25 rather than the AP. Now let's roll.
1. Alabama Crimson Tide (@ #13 LSU, W 10-0): What a pathetic football game. This team isn't anything special.
2. Clemson Tigers (vs. Syracuse, W 54-0): Love blowing out a team finally. Deshaun tweaked his shoulder a bit, but he got us a huge lead, was tossing absolute dimes in the first half and will be good to go for this weekend. The defense made some great plays too. Loved all of it. Except for having to watch Nick Scheussler play (despite being actually kinda impressive).
3. Michigan Wolverines (vs. Maryland, W 59-3): Another good team beating up on a bad team.
4. Texas A&M Aggies (@ Mississippi State, L 35-28): Screw A&M. Get lost.
5. Washington Huskies (@ California, W 66-27): Thought Cal might be able to keep up with Washington, but nope. I think Washington may actually be decent.
6. Ohio State Buckeyes (vs. #10 Nebraska, W 62-3): I know Nebraska wasn't that good, but holy shit. The bucks turned it up a bit this week.
7. Louisville Cardinals (@ Boston College, W 52-7): Cool Louisville, we did that too. Just no one got a boner from watching it. Because it was expected.
8. Wisconsin Badgers (@ Northwestern, W 21-7): Gotta love Wisconsin. Stingiest defense of all time I think. They have to lead the nation in all time wins when scoring fewer than 25 points.
9. Auburn Tigers (vs. Vanderbilt, W 23-16): Goodness Auburn, can't have you lose to Vandy almost. Clean it up.
10. Nebraska Cornhuskers (@ #6 Ohio State, L 62-3): I think what happened here was that Nebraska just isn't good. Also their QB died. Didn't help.
11. Florida Gators (@ Arkansas, L 31-10): Overrated Florida loses to another overrated SEC team. Now everyone thinks the latter of the two is even better. Leading to two shitty SEC teams overrated in the top 25. Great.
12. Penn State (vs. Iowa, W 41-14): Penn State on an absolute roll. Flying high after that W against Ohio State.
13. LSU Tigers (vs. #1 Alabama, L 10-0): I know it's Alabama's defense and the sun rises and sets on their cocks, but I don't think I've ever seen a worse performance by a division 1 quarterback. It boggles my mind how LSU hasn't been able to recruit a decent quarterback since like Matt Flynn. Unreal.
14. Oklahoma Sooners (@ Iowa State, W 34-24): Cool OU.
15. Colorado Buffaloes (vs. UCLA, W 20-10): Little Thursday night win for the top 15 Buffs. Nice.
16. Utah Utes: BYE
17. Baylor Bears (vs. TCU, L 62-22): Hahahahahhahahahaha now it's your turn to get raped, Baylor. How do you like it? God what a pathetic program.
18. Oklahoma State Cowboys (@ Kansas State, W 43-37): What a comeback from the boys. K State is no easy opponent and Oklahoma State rattled off 14 points in just a few minutes to defeat the Cats. Exciting game to watch.
19. Virginia Tech Hokies (@ Duke, W 24-21): Nice win I guess. Hokies still on track for the ACC title game.
20. West Virginia Mountaineers (vs. Kansas, W 48-21): Sick.
21. North Carolina Tar Heels (vs. Georgia Tech, W 48-20): The heels have taken care of business since that loss to Virginia Tech, but they need the Hokies to lose.
22. Florida State Seminoles (@ NC State, W 24-20): NC State has had a tough year blowing games that have been right in their fingertips.
23. Western Michigan Broncos (@ Ball State, W 52-20): Go Broncos.
24. Boise State Broncos (vs. San Jose State, W 45-31): Go Broncos.
25. Washington State Cougars (vs. Arizona, W 69-7): Such a bro amount of points for the Cougs.