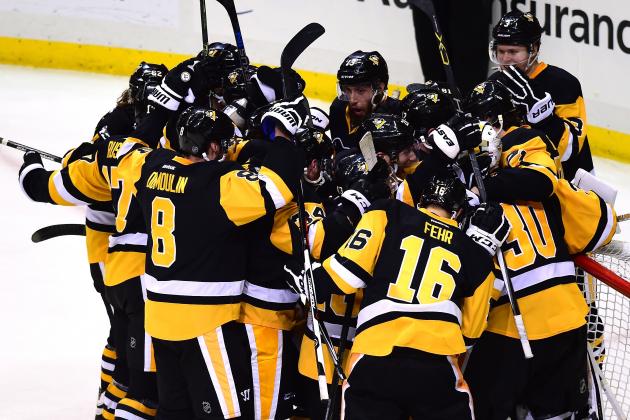 First off, I apologize for not writing a blog after the Pens beat the Caps in the second round but I've been kinda out of it. Haven't written a non FJF blog since the Pens' round one series victory against the Rangers. Some real weak shit from us here at Top Cheddar but maybe we'll turn things around.
But on to the topic at hand, which is that the Pittsburgh Penguins won Game 7 in the Eastern Conference Finals and are advancing to the Stanley Cup Finals for the first time since 2009. It was an amazing series and both teams played pretty awesome hockey. The Pens used their speed to create a lot more offensive opportunities than Tampa Bay and if it weren't for the goaltending of Andrei Vasilevsky for the Lightning, it might have been a sweep for the Pens. That dude played exceptional. Matt Murray did pretty well in net for the Pens as well, but he didn't face nearly as many shots. He has been great for Pittsburgh in the playoffs and I thought it was the right move to put him back in net after giving Marc Andre Fleury a shot in game 5. The HBK line (Hagelin, Bonino, Kessel) had another great series, Crosby came back to life after a minimal offensive output against Washington, Malkin, Kunitz and Letang all had a pretty good series. But a nice surprise was the heroics of youngster Bryan Rust. He almost single-handedly saved the Penguins' season. The big guns for Pittsburgh got the 2-1 series lead, and then they got it started in game 6 with Kessel, Letang and Crosby having the first 3 goals of that must win game. But Rust had the one that sealed the deal in game 6 after a comeback attempt from Tampa Bay, and then he had the lone 2 goals for Pittsburgh in game 7. Like I've said before, the Penguins' depth this year makes them so much more different than the Pens teams of the last six years that have under-performed to expectations.
On to San Jose. Game 1 is Monday, and the Pens have home ice. Lets go.