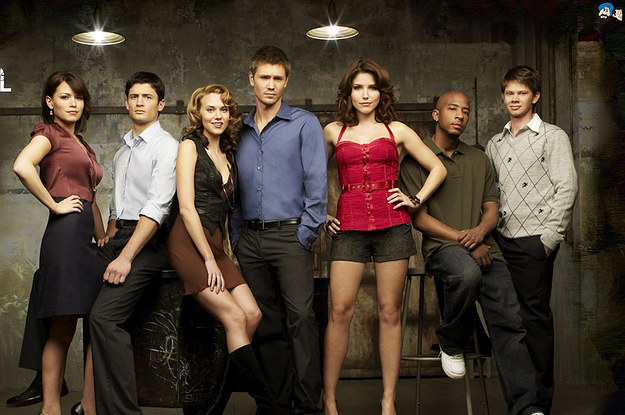 As I wrote about in my
Dan Scott appreciation blog
back in May, I finished up One Tree Hill just this year because I finally had some access to Netflix and got some persuasion from enough people that I caved and gave it a shot. Terrific fucking show. Great drama (yeah I know that's more of a chick thing but I dig it), great cast of characters, and absolutely awesome music. Which is why I'm writing this now.
When I finished the show I started diving into the music of each episode to try and make a playlist. Well I finally finished that playlist Monday night. The Playlist King refused to quit despite facing adversity (laziness). Kings stay kings. Now I have to admit I did not do as thorough a job in the first couple of season in my review of songs. If they didn't have good popularity on Spotify I assumed it wasn't good. I did my due diligence once I came up with the strategy to cue up songs during work and just save them if I liked them enough. This whole process still took me a solid 4 months to go through every episode of every season. 9 seasons, over 20 episodes in most seasons, I'd say an average of 8-10 songs an episode. That's a lot of fucking songs to listen to folks. But, I managed to come up with 347 playlist worthy songs. Almost a day's worth. But like I said,
HERE
is the website I used to find every song from the show so if you (Nick and Gina mostly since you're the only ones that will care about this) think I missed some good ones, tell me to add them. But I think I did a pretty good job. Playlist King indeed.
Now, that ain't all I got for ya. That playlist isn't just soundtrack songs, some of them were from live guest appearances on the show by the bands and artists and some of them were by cast members themselves. I'm gonna break down some of my favorites of each.
Top Live Musical Guest Appearances

7. The Wreckers
What a duo, what a song. And it comes at a pivotal moment too. Clutch gene like you read about from the Wreckers.
Although it's just one acoustic song at the cafe, Sheryl Crow crushes this song. What a tune too. Plus I appreciate the other songs featured on the soundtrack by Sheryl so gotta give her some credit for the cameo as well.
5. Angels & Airwaves
Angels & Airwaves headlining Tree Hill's USO concert was sweet. Gotta love a couple A&A songs getting dropped into the show. Tom Delonge's secondary band puts out some jams as well. Blink 182 is obviously better, but hey these songs are solid too. Tom is a weird dude but if you don't fuck with his unique voice, I don't fuck with you.
4. Gavin DeGraw
The theme song of the show, Gavin crushes the live performance in the cafe. I never realized what a bonafide superstar Gavin DeGraw was until this show. Countless hits in the soundtrack. Stud.
3. Fall Out Boy
Bonus points for two separate appearances. And two quality tracks too. They have plenty of good songs on the soundtrack overall, but gotta love these guest performances. Almost underrated as a band. Some absolute jams in their catalog.
2. Jack's Mannequin
Got a little sneak peak at JM in that last Fall Out Boy video, but they have some terrific songs and I love them having the guest appearance at Tric. Good shit having two of their songs played at the show too. "Dark Blue" is the better song of the two but I think you only hear it good at the end of the song in that FOB video.
1. Jimmy Eat World
I mean just electric performances outta Jimmy Eat World. Three songs all in the episode, but I could only find a video for "Hear You Me." "Work" and "Polaris" are fucking great songs though so I wish I could find videos of those in the show as well. Solid repertoire of soundtrack songs too. Underrated band. They're better than just "The Middle."
Honorable mention: Kid Cudi, The Noisettes, Lupe Fiasco - in that order. Don't ask why I only felt like writing about 7.
Top Cast Member Singers
7. Erin (Laura Izibor)
The Irish girl who calls into the suicide hotline actually has pipes! Who knew?!
6. Jake (Bryan Greenberg)
Jake with a sneaky good voice just using his guitar to make Peyton fall for him. Their whole thing was cool for a bit but we all know where she belonged.
5. Grubbs (Michael Grubbs)
Grubbs, the bartender at Tric for a little while, just killin it with his band Wakey!Wakey!. Fuckin odd name for a band but who cares, Grubbs can crush hits!
4. Haley (Bethany Joy Lenz/Galeotti)
There from season 1 til the end, Haley is obviously a main character and a staple of the show. Late in season one we get a taste of what she can do with the pipes, and her music career ends up being a big part of the show. Love it.
3. Chris (Tyler Hilton)
How bout Chris fuckin Keller? Guy sucked for the first few seasons, just a total dickhead. But he eventually became a low key hero and hilarious character. And he puts out jams, gotta love it.
2. Mia (Kate Voegele)
Peyton and Haley's first find with the record label, Mia Catalano drops absolutely continuous heat on us for the rest of the show. Love her as a character and her music is pretty damn good.
1. Alex (Jana Kramer)
Alex was only on the show for like 2 seasons but Jana Kramer dropped some of her first career singles as her character. And Jana Kramer's career now is pretty much singing so it's pretty clear to me she's the best artist of any of the OTH characters. Jana's got some heaters for sure.
Top Music Moments
Just sit back and enjoy these moments. Perfect music to go along with these.
10. Everybody Hurts
9. I Shall Believe
8. Wedding Dress
7. Babe I'm Gonna Leave You
6. Here Comes A Regular
5. Feeling A Moment
4. Maybe Tomorrow
3. Lavinia
2. Heartbeats
1. Dare You to Move
Some absolutely iconic shit in these scenes. Gotta love the contributions that the soundtrack make to the show. These songs are engraved in my brain with these scenes. What a show, folks.