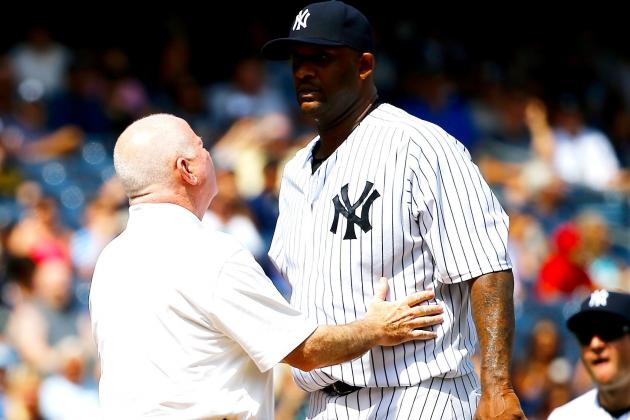 ESPN:
NEW YORK -- If you have watched
CC Sabathia
as a Yankee, you have seen him lead them to a World Series title in 2009. If you have listened to him as a Yankee, you have heard a player who is fully invested in winning.
If Sabathia were to never throw another pitch for the New York Yankees, he would be rightfully remembered as a champion. This is what Sabathia has meant to the franchise.
The severity of Sabathia's latest problem with his knee is unclear, but it seems pretty certain that knee will not be able to handle the rigors for Sabathia to be a top pitcher again. His return for this season is also in serious doubt.
All this said, for the Yankees in 2015, as unkind as it may be to say, it is addition by subtraction.
Sabathia, at $23 million, wasn't helping that much this season. Even in his last three starts, when -- in his words -- he said, "Screw it," and decided not to protect the knee and just deal with the pain, his results were better as his fastball rose to 94 mph, but he was not the Sabathia of old.
Over those three starts, Sabathia pitched to a 3.38 ERA, going six innings in two of them and 6 2/3 in the other. It was a little better, but it couldn't mask his overall numbers of 4-9 with a 5.27 ERA.
Listening to Sabathia after the Yankees' loss Sunday, he sounded like we all do at different points in our life. The mind and the heart still want to do what the body can't.
"It is super frustrating because it is still in there," Sabathia said. "The last couple of starts, you guys have seen. It is just frustrating I can't do it every time."
The Yankees can make up for Sabathia's loss pretty easily. It often is a mistake to count out an athlete with the talent and determination of Sabathia, but you have to think that even an unproven but talented rookie like Bryan Mitchell -- even after taking a liner that broke his nose -- could come back soon and pitch close to the level of a 35-year-old Sabathia.
Mitchell threw a bullpen on Sunday, a little less than a week after the scary scene in which he took a liner off his face. He will throw a simulated game in Tampa early this week and could probably slide in the rotation soon after.
This could preserve the Yankees' plan to protect their starters -- most notablyMasahiro Tanaka -- with a six-man rotation. The Yankees already have Michael Pineda returning from the DL on Wednesday to soften the loss of Sabathia.
The Yankees, from the front office to the clubbies, appreciate Sabathia. They see how hard he has worked to come back. The pain he has pitched through to try to succeed. But there have been no full solutions to his loss of ace form, last seen in 2012.
Even if this injury turns out to be the worst case for Sabathia, there is no financial relief for the Yankees. Sabathia is owed $25 million next year. His $25 million for 2017 is negated only if Sabathia has a shoulder issue.
It is Sabathia's knee that has given out on him. On a day the Yankees honored his good friend Andy Pettitte, you could tell it is killing Sabathia on the inside he can't consistently find success.
He seems to have a pretty good excuse for why he can't perform at his former level. That still won't make him feel any better -- and it doesn't shade the naked truth that the Yankees are probably better off without the 2015 Sabathia than they are with him.
It is frustrating for him. Sad for the team's fans. But reality isn't always pretty.
As bad as my title and ESPN's headline are, it's the truth. I love CC. He's an absolute boss, an incredible teammate, and he was a huge part of the 2009 World Series team. He was a great pitcher for a good amount of years, but he just doesn't have it anymore. It's probably a combination of the injuries he's had as well as just a loss of talent as he gets older. Like I said, I love CC, but the Yankees are in line for a playoff spot and a 5.27 ERA doesn't belong anywhere near October baseball. I love CC's attitude of late just saying "screw it" and trying to pitch as best as he can while injured but he finally realized it wasn't worth it. He doesn't feel good, and he isn't helping the team much. It sucks, but the Yankees will actually probably be better off with CC on the DL.
That being said, the offense needs to find its groove again after another dismal series against the Indians. They need Tex back, and they need A-Rod to pick it back up as we hit the final stretch of the regular season. And I can't believe I'm saying this in late August, but how the hell is Stephen Drew still on this baseball team? I didn't know it was possible for a guy to bat well under .200 for over a year and still have a job. Refsynder needs to get called back up immediately. Games are beginning to matter more and more and for there to be that big of a hole in this line up is inexcusable when there's a far better option just waiting to get a call.
The Yankees' rotation for the rest of the season looks to be Tanaka, Severino, Eovaldi, Nova, Pineda with Bryan Mitchell probably getting a spot start here or there to give some guys an extra day of rest. In all honesty, I've been calling our rotation pretty mediocre for much of the year because they are. However, I'm more than comfortable with giving the ball to those guys in September. Tanaka will almost always give you a quality start and has the ability to throw a gem every time out. Severino is filthy and will only get better with more starts in the big leagues. Eovaldi is on a roll and even though his 4.24 ERA isn't good, he gets incredible run support for whatever reason. The guy just doesn't lose. Nova has great stuff, but we've yet to really see him put it together this year. I imagine he'll get better as he continues to get more comfortable after returning from Tommy John surgery. And Pineda is returning this Wednesday from injury and if he can be what he was at the beginning of the year, then the Yankees are fine. Looking forward to enjoying some great baseball down the stretch here. Should be an exciting finish in a lot of the divisions, especially the AL East.
Sidenote: Tanaka and Severino are the probables for the Friday and Saturday games I'm going to in Atlanta. I don't think I could get a better pairing than that so hopefully Girardi doesn't do anything weird and mess up the rotation this week. I'm trying to see a couple of dubs, Joe.