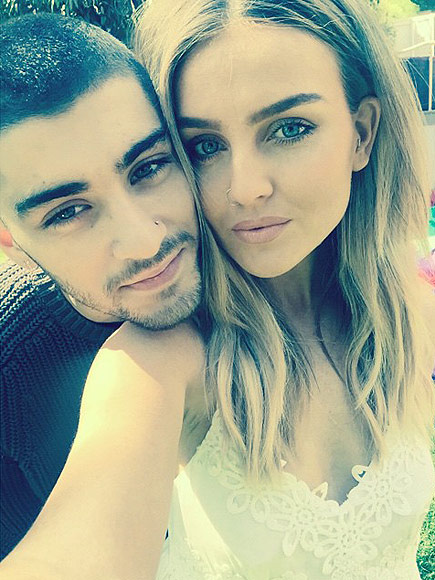 The former
One Direction
singer has left his Little Mix fiancée "devastated," according to a source.
Malik, 22, contacted Edwards, also 22, two weeks ago and said it was over.
"She's been putting on a brave face, as Little Mix have had promotion to do, but she's obviously devastated," the source tells PEOPLE.
Perrie's being supported by her bandmates, but she's really in pieces about this."
In an interview with
E!
on Tuesday, Edwards was asked a question about how she's doing after the split, responding: "I'm good, thank you."
The couple
got engaged
in August 2013, dashing the dreams of millions of One Direction fans.
After getting engaged, the couple were dogged by rumors about when they would wed, but never set concrete plans.
Edwards and Malik are both currently in Los Angeles as she promotes Little Mix's single "Black Magic" and he works on his
new record deal with RCA
, but according to the source, they haven't seen each other.
She has now taken off her diamond engagement ring, as seen in a Monday post
on Instagram
by her bandmate Jesy Nelson.
I don't get it. All this time I didn't know who Perrie Edwards was. Now that I know she's part of the girl group band Little Mix ("Black Magic" is a fucking JAM by the way) I'm pretty confused. How can this chick force Zayn to leave the best band in the world to be with her more when she's in the same business. I mean I know Little Mix isn't as big as 1D but it's the principle of the matter. So I guess Harry Styles shoulda just quit back when he was dating Taylor Swift and could just sit at home while she goes on her own world tours? No that's not how it works. If you've got two performers dating, you either deal with it or split up. You don't leave your band to be with them and then split up. That's so backwards and fucked it makes me sick.
Also, if Zayn thinks he can rejoin 1D now after the break up, he's got another thing coming. You can't leave a group and then have a reunion three months later. He's gotta at least go do his own thing for a couple years and see what happens. I could care less either way. "Drag Me Down" is absolute fire without Zayn but also I'd probably welcome him back with open arms if they let him back.