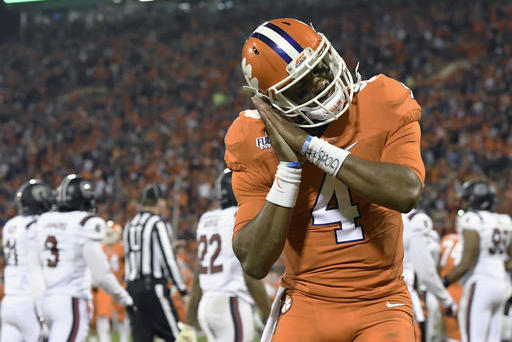 Alright I'm gonna be honest here. I've gotten tired of writing out all 25 teams. Some of those teams just STINK and I don't wanna talk about them. I'm just gonna roll through some of last week's rivalry games as we gear up for championship weekend. Which starts TONIGHT with some solid games.
So obviously Alabama was too much for Auburn in the Iron Bowl. Auburn had plenty of chances though but Bama's redzone defense was too stingy. Forced Auburn into 4 field goals. Unreasonable to expect all of those drives to be touchdowns, but if they did turn into TDs instead of FGs then it would have been a lot closer and a lot better of a game. Instead it was a 30-12 rout.
Michigan Ohio State was a great game, per usual. The number 2 and 3 teams in the country went into double OT before an absolutely absurd spot on fourth down led to the Buckeyes victory. I still don't think there's anyway that JT Barrett got across the line to gain. But oh well. Ohio State came away with the 30-27 win. Everyone seems to think the Buckeyes are in automatically now even though they don't even get to play for their conference title, while Michigan has to sit and pray for help.
Clemson murdered South Carolina in cold blood. Deshaun reminded everyone that he's really good. Mike Williams is a god damn freak. And everything else was pretty damn fun to watch too. Great send off at Death Valley for the seniors/leaving early juniors as well.
Washington throttled Washington State as well. Not a very exciting game.
Kentucky upset pathetic Louisville. That team has become laughable.
Florida State continues to be too good for Florida.
For Championship Weekend, here are my predictions:
Washington takes care of Colorado
Western Michigan takes care of Ohio
Clemson beats Virginia Tech
Bama crushes Florida
Oklahoma State upsets Oklahoma for the de facto Big 12 championship
Navy runs all over Temple
Wisconsin beats Penn State
Playoffs:
1. Alabama
2. Clemson
3. Washington
4. Ohio State