Alright so I'm a little late getting this done, but oh well. It's an awards show and it needs to be recapped. I'm basically gonna just go start to finish with what I liked and hated, gonna try to hit all the important shit, and the stuff I can form opinions on.
Let's start with my girl T-Swift. I missed her performance at the beginning but I watched it today and it was ELECTRIC per usual. Always a solid pick to open an awards show. Now you'd think that in 2016 you could find a video of something the day after it happened and be able to embed it or share it anywhere, but the GRAMMYs website is retarded and YouTube is a joke. So
here's a link to the video of the performance
.
Next, we got Carrie Underwood being stunning and hot as fuck on the same stage with Sam Hunt looking stupid and sucking at his job. Sam Hunt blows. Seriously don't understand why people like him. If I wanted to listen to a guy talk, I'd turn on the preacher channel. Also, of course there's a fucking video of the Sam Hunt performance and not Taylor Swift. Sick.
Then we got
The Weeknd singing two songs
that were old about 6 hours after they were released. A little sidenote about that performance is that I'm pretty sure Robin Thicke was crying after it. I don't have rewind and fast forward and shit on my TV so I didn't catch it, but I'm almost positive he was crying.
Next up, too much Andra Day (whoever the fuck that is) not enough Ellie Goulding in their duet. Ellie Goulding was nominated for her first Grammy last night. I swear to God, she should have won about 5 by now. Girl has never put out a bad song. Ever. Also, Andra Day looked like a fancy chair the Queen of England would sit on or something.
Here's the performance
.
Then we had the Lionel Richie tribute performance, with a buncha studs on the stage. John Legend crushed his part, Demi Lovato crushed her part, Luke Bryan did a great job. And then fucking Meghan god damn Trainor came on and ruined it. And then Lionel himself came up and sang All Night Long and I forgot that fat pig was on the stage singing his songs. Honestly how the fuck did Meghan Trainor land that gig? She has zero talent.
Also, really crazy to me that Demi Lovato is so underrated when she's got a great voice and looks like this: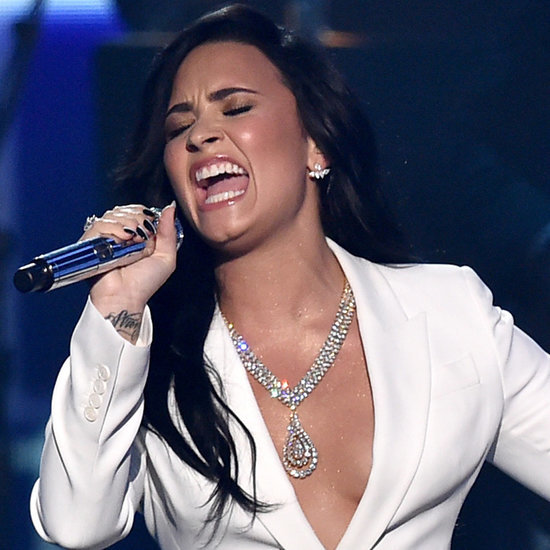 That sweat is hot as fuck.
Next up I loved every second of Stevie Wonder announcing the Song of the Year winner, and making fun of the a cappella group that was with him for not being able to read Braille. While we're on Song of the Year, I'm pumped Ed Sheeran won for "Thinking Out Loud" because that song is great and I absolutely love it. BUT I hated T-Swift jumping up and down for him even though she was nominated for the same award. I get that they're friends, and I LOVE Tay but she needs to settle down with that shit. Just clap and be happy for him. No need to be the center of attention for his award.
Next we got Kendrick Lamar's performance which was really cool and even though I didn't like some of the actual music in the performance, I found myself liking Kendrick more and more throughout it because it was such a great performance and he went all out for it. Also, with that being said, I don't mean I hate Kendrick's music. There are definitely songs I like and I think he's a talented dude. Just liked his performance more than the actual songs last night I think.
Then we got what I think was just a long ass Target ad which was called a "live music video" for Gwen Stefani's new song. And while I make fun of that idea, her new song is an absolute fire flames jam.
Next up. Biebs. "Love Yourself" was a great performance but doing "Where R U Now" with those tools Diplo and Skrillex instead of "What Do You Mean" or "Sorry" was a mistake. Still solid though.
Now we got Meghan Trainor winning "New Artist of the Year" over Tori Kelly. This I was actually upset about. Meghan Trainor has been around for WAY too long with her shitty songs all over my radio. So for her to be even nominated for "New Artist of the Year" was a joke, let alone winning it. Tori Kelly's talent puts Meghan Trainor six feet under. They aren't even in the same league. Meghan Trainor sucks at making music, while Tori Kelly is actually quite good at it. Meghan Trainor could win "fat annoying overplayed bitch of the year" and that's about all she deserves.
Next, we have Lady Gaga's tribute to David Bowie, which was AWESOME. Both really talented, both really fuckin weird. Great job having Gaga do the tribute for Bowie.
Real quick, here's my top 5 Bowie songs:
3. Cat People (Putting Out Fire)-this version:
Next up, we got Taylor winning "Album of the Year" and acting surprised like she hasn't won a billion GRAMMYs in her life. She needs to show a little arrogance about how talented she is sometimes. She's 26 now and can't act like the shocked little girl who just won a GRAMMY anymore. Her saying "as the first female to ever win this award twice" in her acceptance speech is a strong start, but she's still gotta chill with the being surprised schtick. Hey Tay, act like you know you're awesome just once for me. Still love you. Oh, and the shade thrown at Kanye was awesome too. Fuck you Kanye. You think you made Taylor famous? Girl was winning GRAMMYs before she hit puberty. OH, and that handshake was the lamest thing I've ever seen. C'mon Tay. You're better than that.
Tori Kelly was NOT about that speech though. Even though I think every other woman was about it. I mean shit, even I thought it was the best part of Taylor's night other than her performance.
Also, while we're on Album of the Year, since 1989 won the 2016 award but was released late fall of 2014, does that mean Made in the AM and Purpose will be up for Album of the Year in 2017. They were both released late fall 2015 but had no nominations last night. Only explanation is that they were released too late and will win awards in 2017. If so, that 1D vs Biebs battle will be intense.
And then we had a song that I've heard way too much over the past year, Uptown Funk, win Record of the Year. Sick song at first but it's been overplayed for about 13 months.
And then we had Mr. Worldwide, Pitbull, end the show with an electric performance.
Love Sofia Vergara joining in on the action just cuz she's a sexy famous Latina chick.
And that was about it for the 2016 GRAMMYs. Overall a pretty good show, but some of that shit could get cut out so it's not 3 and a half hours long. But whatever. Good shit. See ya at the Oscars.