Week 1 is in the books! Pretty good slate of games for week 1 so that was solid. Let's cut the chase and get to it though.
1. Alabama Crimson Tide (vs. #20 USC, W 52-6): Lane Kiffin getting the last laugh against USC. Bama looked very impressive and gave a convincing reason to stay at #1 this week. I also think USC is just overrated though. Also, what's the difference between Derrick Henry and the running back the Tide has now? I see zero differences.
2. Clemson Tigers (@ Auburn, W 19-13): Wasn't the best game for my Tigers, but it's a road W and I'll take it. If I had to guess too, I'd say they played at the toughest venue of any road top 25 team. A lot of big games were neutral sites, others had cakewalk first games. Auburn is a difficult place to play, even if they aren't a great team. With that being said, I'd like to see Clemson polish some things up before conference play starts.
3. Oklahoma Sooners (vs. #15 Houston, L 33-23): Sick season Oklahoma.
4. Florida State Seminoles (vs. #11 Ole Miss, W 45-34): FSU mounted a pretty impressive comeback in their first game of the year. Down 28-6 in the first half, they outscored the Rebels 23-0 in the third quarter. The frosh QB looked real good to start the season, and Dalvin Cook served as a multipurpose threat outta the backfield, running for 90 yards and receiving for 100.
5. LSU Tigers (vs. Wisconsin, L 16-14): Love the Badgers taking this from LSU in Lambeau Field. Brandon Harris is pretty much the worst QB in college football. Fournette can't do everything for them, despite him trying to. Also, worst cheap shot of all time at the end of this game. Unbelievable.
6. Ohio State Buckeyes (vs. Bowling Green, W 77-10): Ohio State getting their tough Big 10 schedule started early.
7. Michigan Wolverines (vs. Hawaii, W 63-3): Michigan saw Ohio State's Bowling Green and raised them a Hawaii.
8. Stanford Cardinal (vs. Kansas State, W 26-13): Heisman hopeful Christian McCaffrey dazzled in his first game of the season. I don't know what else to expect from Stanford this year but I do know McCaffrey is freaking sweet.
9. Tennessee Volunteers (vs. Appalachian State, W 20-13 OT): Wasn't buying the Tennessee hype before the season. And they gave me no reason to buy it after week one either. Tennessee sucks. No way they're number 9 in the country.
10. Notre Dame Fighting Irish (@ Texas, L 50-47 2OT): The game of the week came on Sunday night. An absolutely unreal game that was not only back and forth but full of comebacks at the same time. Had no idea Texas was gonna be good enough to beat the Irish, but they were. Both these teams looked real solid, with the Longhorns just coming out on top in double OT. Blocked PAT returned for 2 points to force OT was the first absolutely ridiculous impact play of the college football season.
11. Ole Miss Rebels (vs. #4 Florida State, L 45-34): Awful second half for the Rebels ruined a once 28-6 lead. Chad Kelly looked great, and then looked horrible. I imagine that's kinda how his season will go. Also, Swaaaaaaag Kelly (that's Mia Khalifa btw):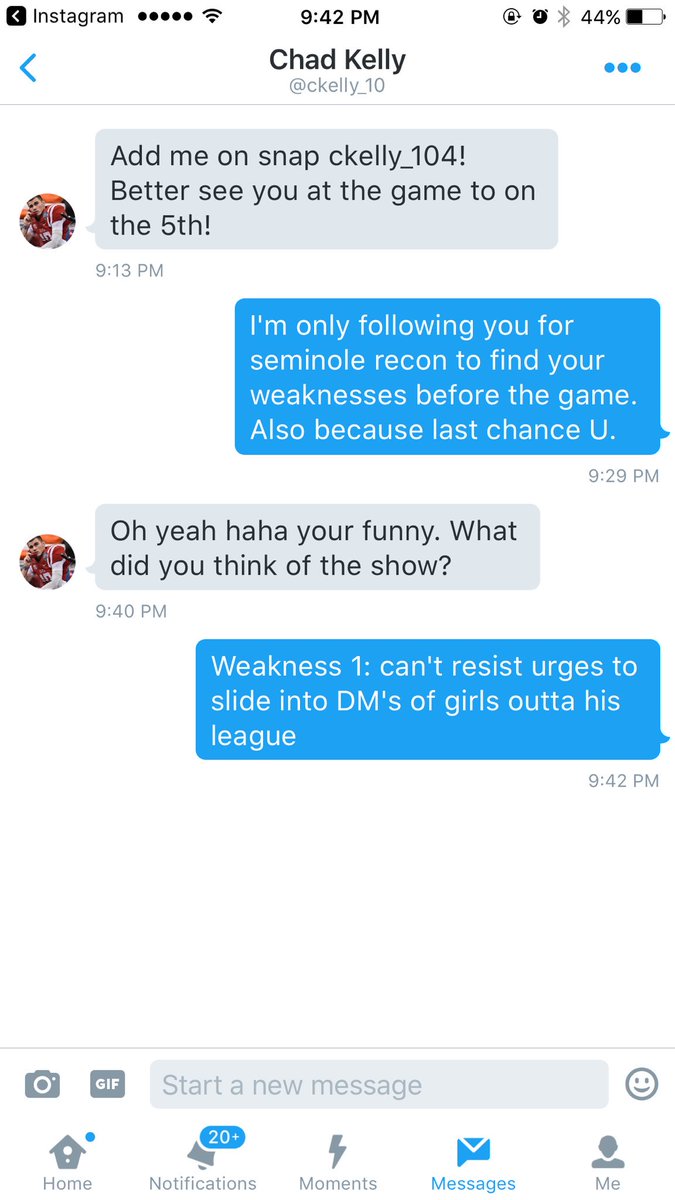 12. Michigan State Spartans (vs. Furman, W 28-13): Michigan State saw Michigan's Hawaii, and raised them a Furman. And beat them by a whopping 15 points.
13. TCU Horned Frogs (vs. South Dakota State, W 59-41): SDSU gave em a run for their money but faltered in the second half.
14. Washington Huskies (vs. Rutgers, W 48-13): Didn't know Washington is expected to be good. Nice start to the season though against a shitty opponent.
15. Houston Cougars (vs. #3 Oklahoma, W 33-23): Even though they're ranked 15th, this was probably one of the bigger upsets of the weekend. Oklahoma is supposed to compete for a national championship and Houston is in the AAC. Greg Ward Jr is sweet though, and so was that 109 yard "Kick Six." Big win for the Cougs.
16. UCLA Bruins (@ Texas A&M, L 31-24 OT): Unreal play to force OT against the hometown Aggies, but UCLA lost in OT to open the season. Tough venue to play at obviously so I don't consider this a huge upset. UCLA will still be a contender in the Pac 12.
17. Iowa Hawkeyes (vs. Miami (OH), W 45-21): Iowa saw Michigan State's Furman and raised them a Miami of Ohio. The Big 10 schedule this week was NUTS.
18. Georgia Bulldogs (vs. #22 North Carolina, W 33-24): Nick Chubb's big and dominant return led the way for UGA's comeback. He's pretty freakin good.
19. Louisville Cardinals (vs. Charlotte, W 70-14): Easy first game for the Cards, nothing to see here.

20. USC Trojans (vs. #1 Alabama, L 52-6): USC sucks.

21. Oklahoma State Cowboys (vs. Southeastern Louisiana, 61-7): Cool game.

22. North Carolina Tar Heels (vs. #18 Georgia, L 33-24): UNC had it. And then they didn't.

23. Baylor Bears (vs. Northwestern State, W 55-7): Women and dogs aren't the only thing Baylor players raped last week. Welcome to the club Northwestern State.

24. Oregon Ducks (vs. UC Davis, W 53-28): Sick game.

25. Florida Gators (vs. UMass, W 24-7): Beating UMass by 17 is pretty badass.


And that wraps up week one. Sorry it's so late this week. I'll be better.