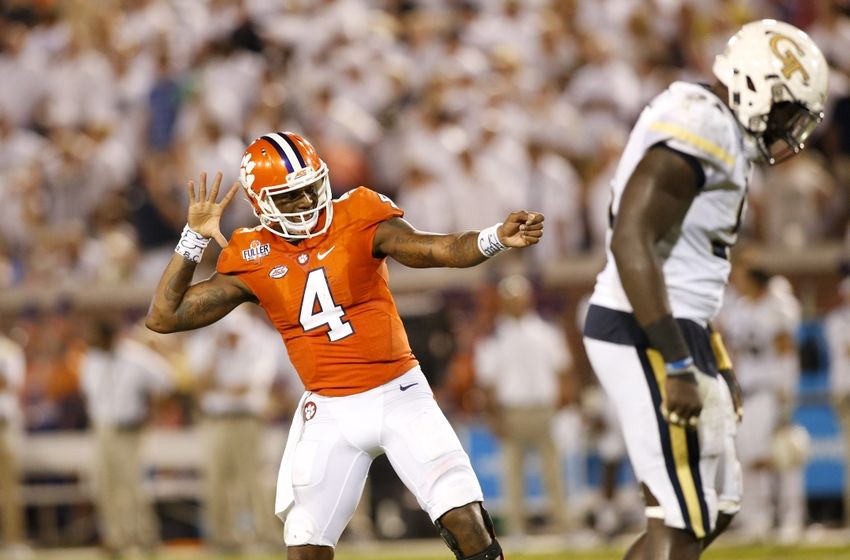 Plenty of exciting games in week 4 so let's get started.
1. Alabama Crimson Tide (vs. Kent State, W 48-0): Tide lookin good I guess.
2. Ohio State Buckeyes: BYE
3. Louisville Cardinals (@ Marshall, W 59-28): Honestly, screw Lamar Jackson. Dude's gonna get smoked in Death Valley.
4. Michigan Wolverines (vs. Penn State, W 49-10): Blue still rolling.
5. Clemson Tigers (@ Georgia Tech, W 26-7): Clemson probably shoulda won this game by 50 points but penalties and conservative play calling kept Georgia Tech in the game. But my spin on it is that Clemson has found zero success in their recent trips to Atlanta, and were only 10 point favorites against a poor Georgia Tech team. Not a bad W if you look at it that way. The defense shut down Tech's rushing attack again this year which I was really pleased with. Could still use some work on offense. And if we're winning, please continue to pour it on. It's better that way. So pumped for the big game this weekend though. Can't wait to be back in the Valley.
6. Houston Cougars (@ Texas State, W 64-3): A close one in Texas.

7. Stanford Cardinal (@ UCLA, W 22-13): A solid 4th quarter by Stanford led them over the Bruins after playing from behind for most of the game. Another solid showing by McCaffrey as well. Also, for people who had UCLA +3.5 that scoop n score as time expired must have been a heartbreaker.
8. Michigan State Spartans (vs. #11 Wisconsin, L 30-6): Pretty poor showing from MSU this past weekend after taking care of Notre Dame the week before. I guess that game was more indicative of Notre Dame sucking than it was of Sparty being good.
9. Washington Huskies (@ Arizona, W 35-28 OT): Another pretty good game out on the west coast. Huskies needing some OT action to beat the Cats. Arizona has always been a tough place to play for ranked Pac 12 opponents I feel like. So I won't make anything of the fact that Washington needed OT to beat them. I'll actually give em props for pulling it out on the road.

10. Texas A&M (vs. #17 Arkansas, W 45-24): Tied at the half, the second half was all A&M. Didn't watch much of this game but how bout Trevor Knight with 157 yards on the ground? How in the hell did Arkansas let that happen?

11. Wisconsin Badgers (@ #8 Michigan State, W 30-6): What a win for the Badgers. Pretty incredible showing on the road against a top 10 team. It looks like Wisco could have an elite defense this season. Which isn't really anything out of the ordinary. They usually do have a solid defense.

12. Georgia Bulldogs (@ #23 Ole Miss, L 45-14): UGA just getting pummeled by Ole Miss. Tough loss but Ole Miss was better than their 1-2 record probably. Never know which Swag Kelly you'll run into.
13. Florida State Seminoles (@ South Florida, W 55-35): 35 points is a lot to give up. Tough look.
14. Tennessee Volunteers (vs. #19 Florida, W 38-28): Impressive comeback by the Vols but screw them. Aren't actually good.
15. Miami Hurricanes: BYE
16. Baylor Bears (vs. Oklahoma State, W 35-24): First non-rape of the season for Baylor. Gonna need to step it up if they wanna be a contender.
17. Arkansas Razorbacks (vs. #10 Texas A&M, L 45-24): Arkansas is not back.
18. LSU Tigers (@ Auburn, L 18-13): LSU STINKS. And now Les Miles has been fired. Probably shoulda fired him when we all realized he couldn't recruit a halfway decent quarterback.
19. Florida Gators (@ #14 Tennessee, L 38-28): Sick blown 21 point lead Florida. Tough look.
20. Nebraska Cornhuskers (@ Northwestern, W 24-13): Welcome back to the top 25 Nebraska.
21. Texas Longhorn: BYE
22. San Diego State Aztecs: BYE
23. Ole Miss Rebels (vs. #12 Georgia, W 45-14): Swagggggggg.
24. Utah Utes (vs. USC, W 31-27): Boy does USC suck.
25. Oklahoma Sooners: BYE
Hopefully next time we check in we're talking about a huge W for the Tigers in Death Valley. Can't wait. Also, I'm real sick of the SEC not having highlight packages of their games up on youtube. Every other friggin conference has highlights of all their games. It's like the SEC thinks they're too good for people who can't make it to the games or see them on TV. Unreal.