Well the 2016 postseason is upon us and while my Yanks fell short of the playoffs for the third time in the last four seasons, it should still be an exciting month of baseball.
AL Wild Card Game
Baltimore Orioles @ Toronto Blue Jays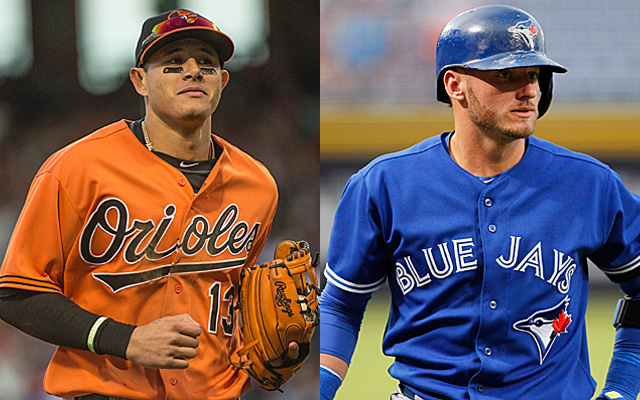 I hate both of these teams, and I think both of them suck. Neither team has any pitching. They both hit a ton of home runs so they appear to the casual fan that they're both good. But they suck. And both teams know they suck. I hate the Blue Jays more than the Orioles, but I think Toronto pulls it out tonight. And that's not just because they took a 1-0 lead in the second inning as I'm writing this, but it's because Orioles starter Chris Tillman sucks at the Rogers Centre, and as much as I hate Marcus Stroman and think he's one of the most overrated pitchers in the game, he proved to be a decent gamer last postseason so I'll go with the Jays. Fuck these teams though.
NL Wild Card Game
San Francisco Giants @ New York Mets
Two more teams that I'm not a big fan of. But at least the pitching matchup is sweet. Madison Bumgarner is already one of the best postseason pitchers of all time, and Noah Syndergaard is a flame-throwing rising star and one of the best pitchers in the game. As good as MadBum has been in the playoffs, I like the Mets in this one. The Giants had a horrible second half and needed to pick things back up just to make the playoffs. That doesn't mean the Mets have been rock solid, but in my opinion they have been a more consistent baseball team this season, and especially behind Thor. It should be a great game, but I think Thor is lights out and Yo hits a big homer, per usual, to get the W for the Mets.
ALDS
Orioles/Blue Jays vs. Texas Rangers
Since I picked the Blue Jays, I'm going to write this as if they will indeed be the ones playing the AL's best Texas Rangers. I honestly don't think this will be a good series, except for the fact that it will be awesome to see a fraud team like Toronto coil up and die against a really good Rangers team. Toronto has no pitching. I mean I know Aaron Sanchez won the ERA title, but Aaron Sanchez the chef pops up on Google before this mother fucker does. I don't actually think he's that good. First season he's even qualified for an ERA title, he's not fit for the postseason. Meanwhile, Texas has two ACES in Cole Hamels and Yu Darvish. After those two shut down Toronto in the first two games, I don't see Texas blowing another 2-0 lead to Toronto. Plus, the Rangers have a pretty exceptional line up; one that can even compete with the losers from Canada that everyone thinks are totally sweet for some reason. They'll sweep. Rangers in 3.
ALDS
Boston Red Sox vs. Cleveland Indians
Obviously I'm going to be rooting for Cleveland here, but it's hard for me to realistically believe they have a chance. Last month, the Indians' three headed monster at the top of their pitching rotation shrunk to just one normal head, and while that one is a top Cy Young candidate, a previous Cy Young winner and the best of the three, Corey Kluber isn't even 100% and will not be able to pitch 3 games in this series. And against an offense like Boston's that is not a good thing for Cleveland. I hate the Red Sox but they legit have like 5 players that will probably finish in the top 15 in the MVP voting. It's stupid and I hate it but whataya gonna do. Rick Porcello isn't that good. David Price SUCKS. And I'm not just saying that because I hate the guy. I actually think he is a horrible excuse for major league pitcher. The guy SUCKS. And the rest of the Red Sox rotation is worse than those two, so I'm not saying Cleveland doesn't have a chance. But due to Boston's stupid line-up, I have to believe they take the series pretty handily. Red Sox in 4. I just puked.
NLDS
Giants/Mets vs. Chicago Cubs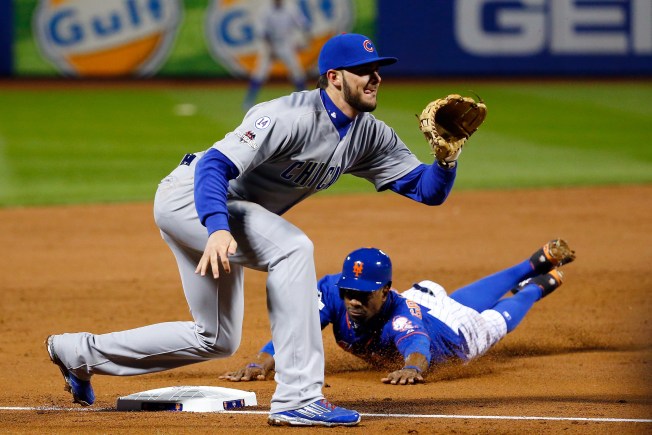 Again, I'm assuming Mets will be in this game since I picked them in the Wild Card game. I'm hoping they do win so we get a 2015 NLCS rematch and the Cubs crush them. With deGrom, Harvey, and Matz all out for the Mets, New York won't have their dominant rotation to rely on to bone the Cubs. They'll just have the aforementioned Thor and no one else really. This series is basically going to be Thor and Yo vs. Bryant, Rizzo, Lester, Arrieta, Hendricks, Russell, etc, etc. The Cubs are really, really good. I don't see them losing in the NLDS. Cubs in 4.
NLDS
Los Angeles Dodgers vs. Washington Nationals
I gotta be honest; I haven't watched a lot of Dodgers baseball, but quite frankly I don't know how the hell they're in the playoffs. A-Gon isn't that terrific, Corey Seager isn't even the best shortstop in the division, and they were without their regular season hero, postseason zero Clayton Kershaw for the majority of the season. The Dodgers suck, Kershaw STINKS in the playoffs, not a good recipe. Meanwhile, Bryce comes alive in the postseason and Scherzer, Roark is probably the most underrated top of the rotation duo in baseball. Missing Wilson Ramos, who outside of El Gary was probably the best hitting catcher in baseball this season, will hurt Washington but they have enough pieces to be successful without him in these playoffs. Daniel Murphy should be ready to go for the series after an MVP-like season. I also love Trea Turner. He's gonna be the rookie you wanna watch in this series. Not Corey Seager. Fuck that guy. Nats in 4.
ALCS
Red Sox vs. Rangers
Can't wait til Ortiz' career ends with a strike out on his home field to complete a Rangers sweep. I don't see Boston coming close to Texas. The Rangers line up can compete with the Red Sox, and get this! They actually have a pitching staff. Boston sucks and they'll be back in the basement next year where they belong. I love this Rangers team and while I know it's not very bold to pick the best team in the AL to advance to the World Series, but I truly believe they're a far better all around baseball team than Boston. They don't have a terrific rotation, but Hamels and Darvish are good enough for me. No one on Boston is as good as either of them. Plus, Carlos Beltran is the most clutch player on any roster in the playoffs. I'll take Texas. Rangers in 4.
NLCS
Nationals vs. Cubs
This will be my favorite series of the postseason if it happens. So many studs on one diamond for 7 games. And I do think it will go 7 games. On paper, you obviously go Cubs, but you still gotta go out and play the games. I think Bryce really comes alive in the playoffs, and takes over this series. The Cubs offense fell apart last year in the NLCS when the faced good pitching. And Washington has good pitching. They aren't exceptional outside of Scherzer, but Roark has been really good this season and Joe Ross is solid. It's no Lester, Arrieta, Hendricks but for some reason I just think the Cubs won't pull it off this season. It might just be my desire to have Bryce light up everyone in the playoffs. But anyway. Nats in 7.
World Series
Nationals vs. Rangers
There's not much else to say, and I just wanna get this blog over with because I started it Tuesday night and now it's Thursday night and 4 playoff games have already happened, so whatever. I'm gonna love this series if it happens. Bryce and Beltran probably hit a combine 10 homers in the series. Rangers edge the Nats. Rangers in 7.