It's baseball season folks! Opening Day is just a couple days away and I couldn't be more pumped. I'm gonna start off doing a preview for my Yanks, and then I'll do a full MLB preview with standings and playoff predictions later on.
The Yankees didn't do much in the offseason. Last offseason they signed a bunch of big names, but this year they kept it low key. Traded for a new shortstop, Didi Gregorius, since The Captain isn't around anymore. Traded for pitcher Nathan Eovaldi who is a young, hard thrower but hasn't put it all together yet. Re-signed free agent Stephen Drew to play second base even though he batted a dickshit .162 last season. A-Rod is un-suspended. Signed lefty reliever Andrew Miller who's nasty. I think those are the main additions/re-signings for the Yankees. In the process, they lost a few contributors from last season as well. Closer David Robertson signed with the White Sox. Infielder Martin Prado went to Miami in the trade for Eovaldi. Starting pitcher Shane Greene who I really liked went to Detroit in the three team trade for Gregorius. And reliever Shawn Kelley went to Arizona in that same trade. So they didn't add a lot, but didn't lose a lot either.
Let's take a look at the projected line-up and pitching staff for the year.
Line-Up:
1. Jacoby Ellsbury CF
2. Brett Gardner LF
3. Mark Teixiera 1B
4. Brian McCann C
5. Carlos Beltran RF
6. Chase Headley 3B
7. Alex Rodriguez DH
8. Stephen Drew 2B
9. Didi Gregorius SS
Key Bench Players:
Garrett Jones 1B
Chris Young OF
Jose Pirela* IF
*Or any other minor leaguer that gets called up. Pirela played a bit last year so he might start on the major league roster.
Rotation:
1. Masahiro Tanaka
2. Michael Pineda
3. CC Sabathia
4. Nathan Eovaldi
5. Adam Warren* (until Ivan Nova returns from Tommy John rehab)
*The fifth starter hasn't been named yet, but a lot of guys are saying Adam Warren will probably get the nod. He was great out of the pen last year so hopefully he can be good in the rotation too for a little while before Nova gets back.
Key Relievers:
Dellin Betances
Andrew Miller
Justin Wilson
David Carpenter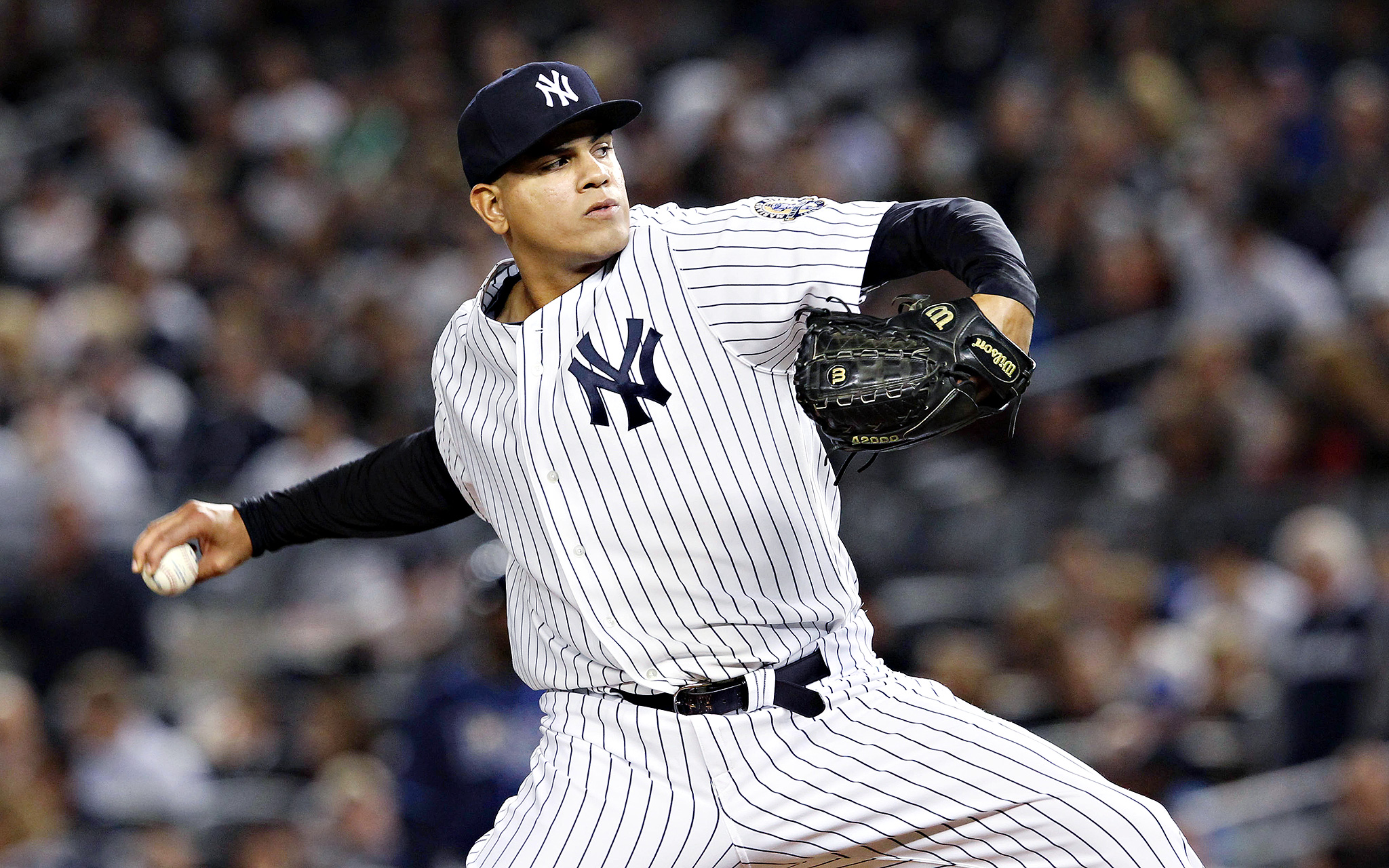 A big key for every team is staying healthy, but it is especially so for the Yankees. Way too many injuries to impact players the last two years and I'm sick of it. If (and that's a BIG if) the pitching staff can avoid injuries then I think the Yanks can make a playoff push. The bullpen is gonna be absolutely FILTHY. And as far as the line-up goes, I'm expecting Ellsbury, McCann and Beltran to have big bounce back years in their second season in pinstripes. Tex and A-Rod are gonna be key. Gotta get production out of those guys. Brett Gardner needs to hit for a higher average and better on base percentage. His power numbers exploded last year but he has to be more of a catalyst at the top of the order. He's one of the fastest guys in the league and needs to be on base more often, and needs to steal more often when he is on base. I'm saying that all of this "needs" to happen, and I honestly think most of it will happen. Probably be a few injuries among some of the guys but they'll be alright.
Prediction:
92-70 1st in AL East
Jacoby Ellsbury wins AL MVP
Masahiro Tanaka wins AL Cy Young
Yanks take home #28!!!
What kinda fan would I be if I didn't pick em to win the World Series? Might be completely nuts, but oh well. End the five year drought right now. We don't wait 86 years to win championships again. It's been long enough.