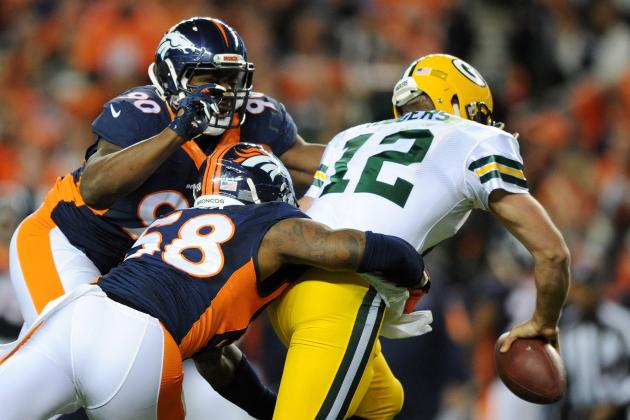 Okay, so the undefeated Packers went to Denver Sunday and got emasculated by the undefeated Broncos. I thought I was gonna be able to handle a defeat, because well, I never imagined an Aaron Rodgers-led football team could be shut down like that. And so, I still got infuriated by this loss. Now, was this the worst game I've ever seen the Packers play? Perhaps. Am I worried? No. Here's why. The Broncos defense actually might be one of the best I've ever seen. I know the Packers are missing Jordy Nelson, but Randall Cobb is incredibly quick and is a great receiver himself, and Davante Adams has a ton of talent, and James Jones is a very experienced receiver and has a lot of chemistry with Rodgers. BUT, there was no where for Rodgers to go with the football on Sunday. NO WHERE. Cobb had 6 catches that all came on short crossing patterns it seemed. Now obviously the Packers played incredibly poorly. Rodgers pretty much refused to leave the pocket, even though that's when he does some of his greatest damage. And the run game didn't do much. And the defense allowed over 500 yards of offense for the second straight game. Peyton Manning may be well on his way to death, but he still can exploit inexperienced corners--who have to see more time on the field due to TWO corners going down--with the best of them. So, I know the Packers played horribly but the Broncos have an elite defense and it isn't cold enough for Peyton Manning to die yet. That combination did not bode well for Green Bay on Sunday and hopefully it's a wake up call.
Another reason that I am not worried is that the Packers are still 6-1 and if the Vikings scare any Packers fan just because they kicked a field goal to beat the Bears, then they aren't a real Packers fan. The Packers started last year 1-2, had a bad loss to the Lions, everyone freaked out, Aaron said R-E-L-A-X, people got on him about that, and then it turned into the mantra for the team as they finished at 12-4 and were one third string tight end's fuck up away from beating the Patriots again, and winning the Super Bowl. So, the Packers have already called it a humbling loss so hopefully they take that to heart, put in some good work this week and get ready to take on ANOTHER undefeated team on the road in Carolina.
And a little silver lining from this. Last year, the Patriots got humiliated by the Chiefs on national television and began the season 1-2. Trent Dilfer said Tom Brady AND the Patriots just weren't good anymore. The Patriots won the Super Bowl last year in case you didn't know. Obviously if a certain fuck would just do his job, things would be different (most likely). And so here we are this year, definitely a little bit different since the Packers are 6-1 not 1-2, but Green Bay got humiliated on national television, Trent Dilfer gave us a good little lecture on how to be a good football team, and I'd be shocked if we didn't hang 60 on the cute little Panthers this week. Now obviously, Mike McCarthy is not Bill Belichick (although McCarthy is a really good coach) and Aaron Rodgers (even though he one day may be, and is the best current QB) is not the greatest quarterback of all time, Tom Brady. BUT, in my opinion, there is no way the Packers don't come out on Sunday firing on all cylinders and show the Panthers what a real franchise looks like.