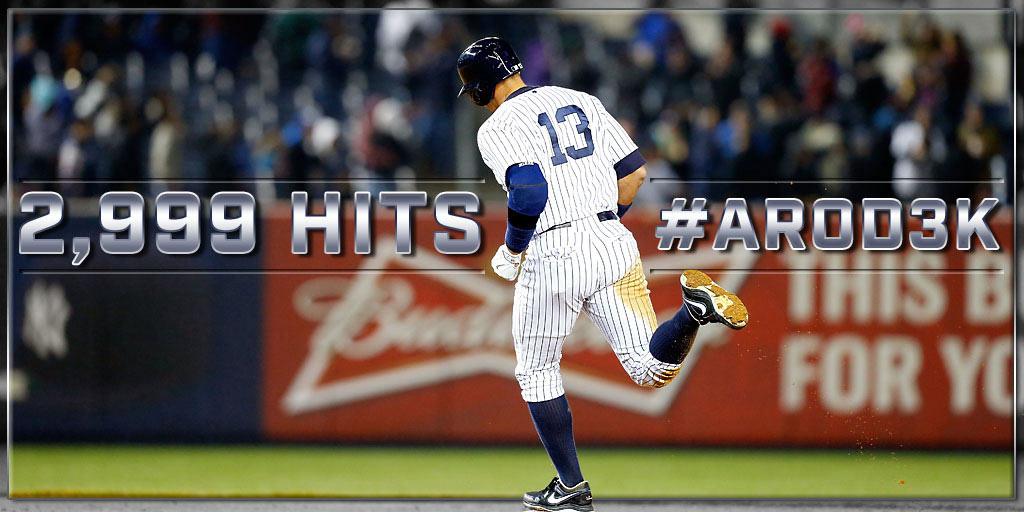 ESPN
:
NEW YORK -- It took
Alex Rodriguez
, of all people, to make the new Yankee Stadium feel like the old one. That raw, passionate emotion that made the old digs shake emanated out of the fancier stands in the eighth inning because the Bronx's new favorite son, A-Rod, was at the plate, looking for hit No. 3,000.
The fans wanted history.
A guy named Sam Dyson, a 27-year-old without even 100 major league innings on his resume, was on the mound for the Marlins. Dyson knew that Rodriguez needed just one hit, and he wanted no part of history.
"I think it gives you more of a drive to get the guy out," Dyson said after the Yankees' 9-4 win over the Marlins on Thursday night.
Dyson, who went to high school in Tampa and college at South Carolina, learned how it used to routinely sound like in the Bronx. With specially marked balls being used for the possible historic at-bat and with nearly all 38,239 on hand standing -- many taking pictures and video on their phones -- Dyson brought some gas.
Each pitch he threw was 97 mph or harder. Each pitch was inside. Each pitch was a ball. And each pitch made the fans madder and madder.
When A-Rod reached on a walk, the chances for the fans to see the 29th player reach 3K vanished. The crowd was unhappy.
They taunted Dyson with a chant that describes one's behind and begins with an "A." It was loud and clear. When the fans finished with that one, they chanted, "You suck! You suck! You suck!" at Dyson. Again, it was as if it was being said on Bose surround sound. Well that explains the gaping vagina I saw from #36 in the 8th inning last night. Cocksucker went to South Carolina. What an absolute LOSER. Hey Sam Dyson, sack up and throw a pitch in the strike zone, you pussy. This fuckin guy says that A-Rod having 3,000 hits on the line "drives him to get the guy out more." Oh really idiot? How in the fuck were you gonna get him out by throwing four straight pitches AT him? Hey bro, grow up and throw a pitch over the plate one God damn time for me.
As for the point of this article from ESPN, the Stadium was awesome last night. Place was ELECTRIC and you gotta love the "ASSHOLE" chants in the Bronx. Absolutely love it. Hey Sam Dyson, fuck you. And fuck your stupid alma mater too. Oh and get a Twitter so I can tweet at you that you're a bum ass fuckin bitch. Thanks.
P.S. The Yankees won't pay A-Rod his $6 million for passing Willie Mays on the all time home run list because they claim they can't market it. Well there was shit like ESPN's commercial that had a "Rule 661" which is to "let the bat do the talking" and now the Yankees are tweeting the hashtag #AROD3K every time he gets a hit. They could sell 661 and A-Rod 3K t-shirts pretty easily. He's the fans favorite player for Christ's sake. Pretty sure you can and have been marketing it. Pay the man.