Wow what a weekend of college football. It was upset week in a lot of places as 4 top 10 teams went down. A lot of great games across the board, so let's get to it.
1. Ohio State Buckeyes (@ Indiana, W 34-27): OSU didn't look great again on Saturday but Ezekiel Elliot and his 274 yards and 3 TDs made sure they weren't gonna lose to lowly Indiana.
2. Michigan State Spartans (vs. Purdue, W 24-21): Is Michigan State serious?? Are their fans serious?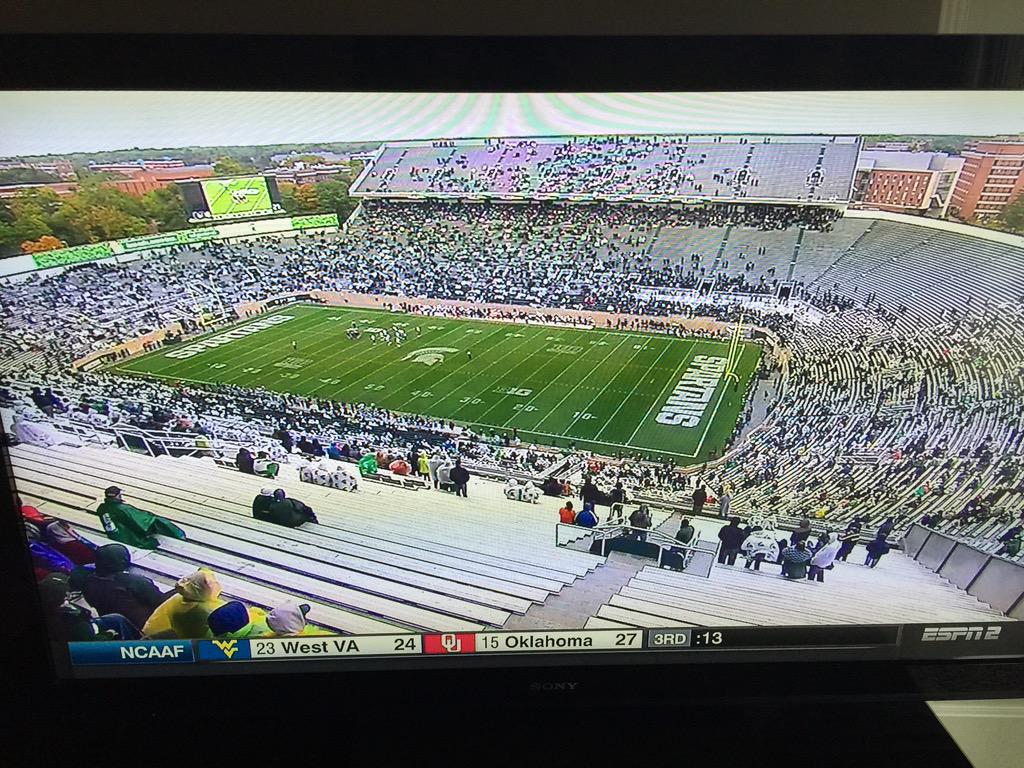 3. Ole Miss Rebels (@ #25 Florida, L 38-10): Ole Miss got dominated by the Gators and suffered their first loss of the season. The Rebels defense has been getting a lot of praise lately, but they didn't play well, and it was the Florida defense that did show up. They got to Chad Kelly a lot and forced him to make poor throws/decisions. Gonna be interesting to see how Ole Miss bounces back.
4. TCU Horned Frogs (vs. Texas, W 50-7): God I wish Texas would get good again. TCU obliterated them right from the beginning. I mean they did a trick play to go up 30-0 in the first quarter. Just ruthless. Get better Texas, jeez.
5. Baylor Bears (vs. Texas Tech, W 63-35): Texas Tech had to play the two best teams in the Big 12 back to back. The first one ended in heartbreak. That's a recipe for disaster in the second one. And that's what happened. Notice how I didn't talk about Baylor yet. It's because they're a fraud team. They're offense is good, but it's only a matter of time before teams really expose their defense. Still, I'll say they're the second best team in the Big 12 since they haven't lost. Yet.
6. Notre Dame Fighting Irish (@ #12 Clemson, L 24-22): Props to Notre Dame for fighting until the end. They were down 21-3 going into the 4th quarter and they started taking advantage of the fact that Clemson's offense couldn't take advantage of Notre Dame sucking (I don't know if that makes sense, but it's exactly what happened). That being said, sucks to suck Notre Dame! (Obviously I'll talk more about this game when I get to Clemson.)
7. UCLA Bruins (vs. Arizona State, L 38-23): This is why I can't get a read on UCLA. Just as I'm ready to start thinking they're for real after destroying Arizona in Tucson, they go and lose pretty easily at home to ASU. The flip flopping on UCLA continues. This time they might have fully convinced me they're not that great though. I guess we'll just have to wait and see.
8. Georgia Bulldogs (vs. #13 Alabama, L 38-10): Georgia had a real opportunity for both a statement win for their season, and to put Alabama in a real tailspin. Buuuut Mark Richt is still coaching them so you had to know the Dawgs would lose this game. Alabama didn't want a second loss either, making it all the more difficult for UGA to have a chance. Even on their home field.

9. LSU Tigers (vs. Eastern Michigan, W 44-22): Everyone's in the middle of conference play and here's LSU playing big bad Eastern Michigan. Leonard Fournette with his usual 233 yards and 3 scores though.

10. Utah Utes: BYE

11. Florida State Seminoles (@ Wake Forest, W 24-16): Let me let you in on a little secret. Florida State SUCKS. Phew! Been holding that in for too long. Finally let it out. Now you know.

12. Clemson Tigers (vs. #6 Notre Dame, W 24-22): What an unreal game to be at. Saturday night. Hurricane-ish weather. Notre Dame and Clemson. Death Valley. Game comes down to a 2 point conversion attempt. Just incredible. Clemson looked unstoppable early, but the weather (at least I hope it was the weather) forced Clemson to remain pretty conservative with their play calling. Everyone's talking about how drops cost Notre Dame the game, but Clemson had some HUGE drops. Deshaun's best pass of the day went right through Artavis Scott's hands on a play that should have put the Tigers up 28-3. It's just what you have to deal with in that kind of weather. And Clemson decided to go with a conservative ground attack to try to eat up as much clock as possible. Deshaun and Wayne Gallman both ran for over 90 yards while the Tiger D was up to their usual tricks just stuffing the hell out of every run. A lot of analysts are saying "throw away the stat sheet" because the stat sheet says Deshone Kizer threw for over 300 yards. 200 of those came in the 4th quarter when they HAD to throw the ball. I'm not saying that's garbage time because Notre Dame did have a furious comeback even with their turnovers, but when you throw the ball every down, it's tough to stop on D. There's only so much you can do. Bottom line though is that the Tigers defense put everything that happened in the 4th quarter behind them and came up with an enormous stop on that 2 point conversion attempt to win the game. God I love our defense. Okay, enough about this game because this is getting ridiculous. BYOG. God I love Dabo.

Sick ESPN

This vine is AWESOME.
13. Alabama Crimson Tide (@ #8 Georgia, W 38-10): Easy win for the Tide. Like I said, you had to see this coming. No way Bama was gonna drop to 3-2. Nicky Saban wasn't gonna let that happen.
14. Texas A&M Aggies (vs. #21 Mississippi State, W 30-17): A&M staying on track at 5-0, and looking good in doing so. Not much else I can say about this one. I didn't see a lot of football Saturday other than our game due to the tailgating from 10 am to 8 pm.
15. Oklahoma Sooners (vs. #23 West Virginia, W 44-24): Oklahoma is sneaky a dangerous team right now. TCU and Baylor better watch out because the Sooners are looking good.
16. Northwestern Wildcats (vs. Minnesota, W 27-0): I love Northwestern. Just quietly going 5-0, shutting out conference opponents. Watch out Ohio State and Michigan State.
17. USC Trojans: BYE
18. Stanford Cardinal (vs. Arizona, W 55-17): Back to back weeks of getting demolished for Arizona. That sucks for them. Stanford on the other hand, is continuing to forget about their opening week loss, which now doesn't look so bad since Northwestern is undefeated and ranked 16th in the country. Good win for the Cardinal.
19. Wisconsin Badgers (vs. Iowa, L 10-6): That's a pretty dope offense ya got there Wisconsin. Iowa, you aren't much better so calm down. However, Iowa is another quiet 5-0 team. The Big 10 could be a lot more exciting than we had thought coming into the season.
20. Oklahoma State Cowboys (vs. Kansas State, W 36-34): OK State is another team in the Big 12 that could make some noise. They're also still undefeated. Also worthy of note here, this was Kansas State's first loss and they only lost by 2. I don't know who they had played previously, but it looks like the Big 12 could be a relatively deep conference.
21. Mississippi State Bulldogs (@ #14 Texas A&M, L 30-17): What happened to Dak Prescott just tearing apart every defense in the SEC? Weird how he's kinda fallen off the map.
22. Michigan Wolverines (@ Maryland, W 28-0): Welcome back to the top 25 Michigan! Starting it off nicely with a shutout for the second week in a row.
23. West Virginia Mountaineers (@ #15 Oklahoma, L 44-24): Oh hey West Virginia. We'd also like to welcome you ba--aaaand never mind, see ya!!
24. California Golden Bears (vs. Washington State, W 34-28): I know NOTHING about Cal except that they're 5-0 and have a pretty sweet throwing attack on offense. Kinda hope they keep it up.
25. Florida Gators (vs. #3 Ole Miss, W 38-10): You wanna know how you make sure you stay in the top 25 once you make it back for the first time since 2013 (I think)? Destroy the #3 team in the country, that's how. College football is better when Florida is good. Keep it up Gators, I love it.
And that'll wrap up another week in college football. I think it's safe to say that was the best overall week so far. Sorry to the top 10 teams that went down, but that's college football for ya. Until next week, folks.
#GoTigers