College football is back, Luke is doing his Wednesday/Thursday Bangerz again, Tom Brady is free, plenty of Taylor Swift material to blog, one year FJF anniversary was last week. Is Top Cheddar back or are we back? (By back I mean we're back to 30 page views per blog rather than 15.)
Alright so Dabo, Deshuan, and I know that Clemson will win the national championship this year but for those of you who don't know that yet, I'm gonna let you know why they will.
Clemson is returning a ton of superior talent on offense, and while their #1 overall defense from last year lost a lot of guys, there's still plenty of talent on that side of the ball. Plus, defensive coordinator Brent Venables is
teaching his guys to rip peoples' faces off
. There are some question marks on this team, but if Clemson avoids injuries to their main contributors they can go places this year.
Like I mentioned above, Clemson's offense should be back to putting up 45-50 points a game this year. They have a lot of talented players on this side of the ball with experience. The offensive line is one of the question marks surrounding this team, but they should be more than adequate in protecting Deshaun this year. Losing Isaiah Battle to the supplemental draft was a big blow to this group but hopefully 5 star recruit Mitch Hyatt can live up to those 5 stars and do a great job. So now, let's look at a few players in particular that will drive this team to success on offense.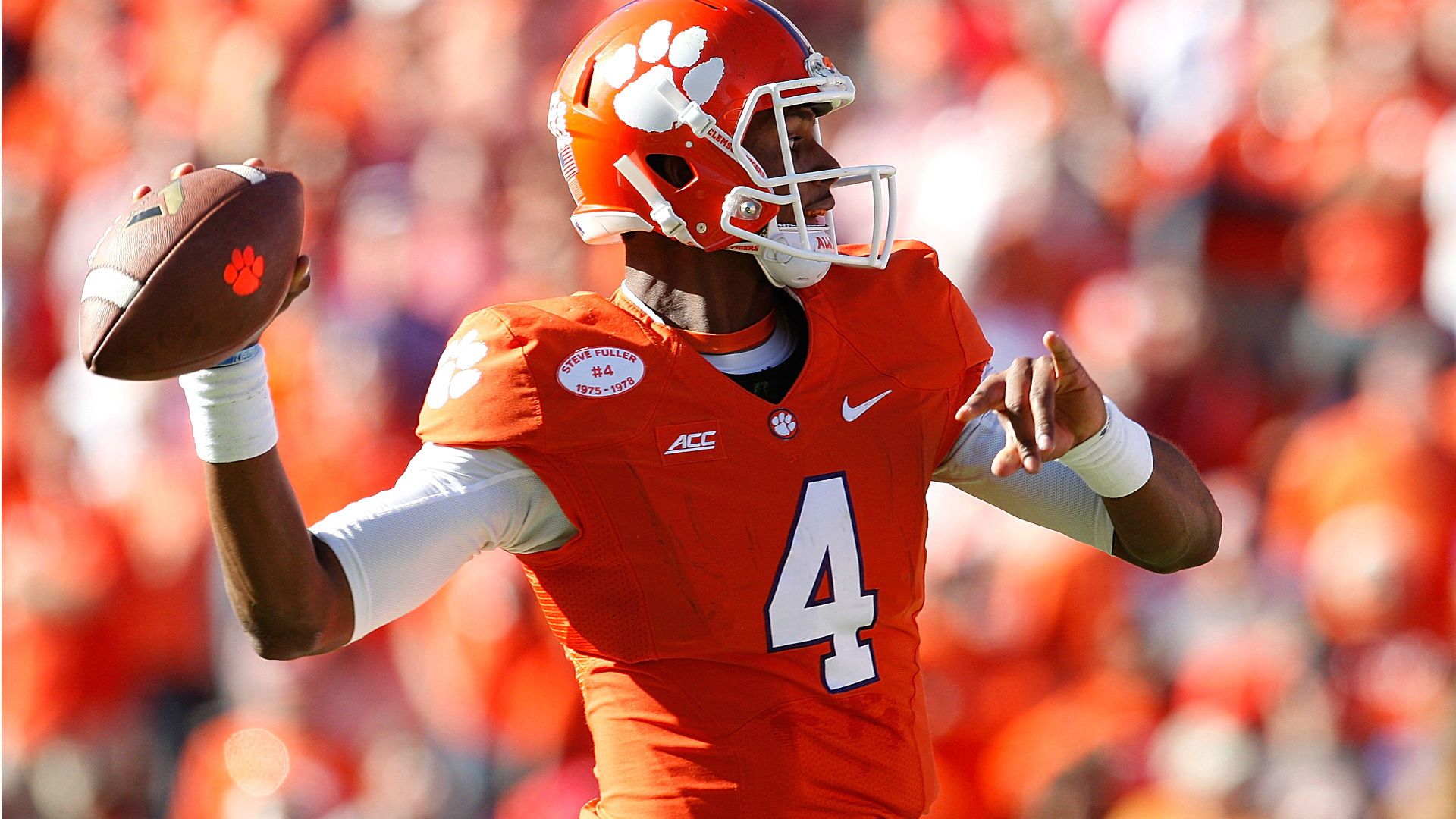 Deshaun Watson, in my mind (obviously biased a little bit), is the best player in college football. If he can manage to stay healthy the whole season, his talent will do the rest and lead this team to success. It's honestly unfair how good he is. I mean, he set the school record for most TD passes in a game in his FIRST career start. He jumped over another human being. He beat rival South Carolina with a torn ACL. He's just absurd. If he's healthy, I don't really see a scenario where he doesn't win the Heisman.
2014 Stats (7 games)
93 for 137, 67.9%
1466 yards
14 TDs, 2 INTs
63 carries, 200 yards
5 rushing TDs
Wayne Gallman emerged as the #1 running back for the Tigers midway through last season. He finished off incredibly with a 191 yard performance against rival South Carolina. If he can build off the momentum he created for himself last season, this kid can become a superstar. There are other running backs with some experience behind him, but Gallman is definitely the premier back for this offense, and they're gonna need him to perform at a high level this year.
2014 Stats (13 games)
161 carries, 769 yards
4.8 yards per carry
4 TDs
24 catches, 108 yards
1 TD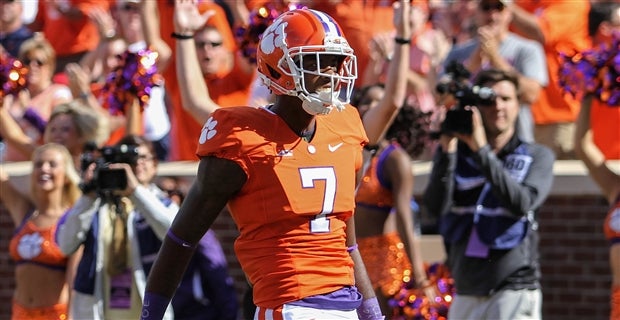 Mike Williams is just a straight up impressive athlete. He's 6'4" with solid speed and has big play ability. Williams will be the main deep ball threat for Clemson this year and after putting up big numbers with Cole Stoudt throwing him the ball the majority of the time last year, I'm only expecting even better things from him this year.
2014 Stats (13 games)
57 catches, 1030 yards
18.1 yards per catch
6 TDs
This kid is simply unreal. He and Mike Williams make such a great 1-2 WR combo because they offset each other. Mike Williams is the playmaker down the field, and Artavis is the "give him the ball as soon as possible and watch him go to work" kinda guy. He had a great freshman season and I can't wait to see what he has in store for an encore this year.
2014 Stats (12 games)
76 catches, 965 yards
12.7 yards per catch
8 TDs
Other Players to Watch on Offense:
Charone Peake, WR
Jordan Leggett, TE
Germone Hopper, WR
Tyshon Dye, RB
Deon Cain, WR
Ray Ray McLoud, WR
Like I said earlier, Clemson lost a lot of talent and experience on defense, but they still should be fine. They will most likely not be as dominant as they were last year, especially against the run, but they're still capable of getting the job done. Their strength this year will most likely be in the secondary where experienced guys like Mackensie Alexander and Jayron Kearse roam, whereas last year their strength was the front seven. Anyway, here are some players to watch this year on D.
Mackensie Alexander calls himself the best cornerback in the country, and he damn well might be. He simply shuts guys down. He slipped on a deep ball to Rashad Greene against FSU last year that tied the game, but after that I don't remember anyone having a big game against Alexander. He put that one bad play behind him and got better. And I only expect him to get better this year. He's about to become the most dominant shut down corner in the country.
Jayron Kearse is a beast. He's a 6'4" safety which I'm not sure I've ever heard of. He's all over the field, and will be arguably Clemson's best playmaker on defense this year. He's an incredible talent and a lot of fun to watch. He's tall but he's also really quick. The play he made against Louisville last year to save a late TD and the game was awesome. Hopefully he continues to excel in 2015.
Shaq Lawson was Vic Beasley's back up for a couple years and has played a lot of snaps in the process. He's the best and most experienced player on the defensive line for Clemson. Look for him to have a huge season now that he's the starter.
Other Players to Watch on Defense:
Ben Boulware, LB
BJ Goodson, LB
TJ Green, S
Cordrea Tankersly, CB
Travis Blanks, S
Christian Wilkins, DT
Clemson definitely has some tough games this year. Luckily three of the toughest are at home. I'm not sure how good Louisville will be this year, but visiting them on a Thursday night with no bye before it won't be easy. The good thing about that is that they have their bye after that week and have a lot of extra time to prepare for Notre Dame, who is supposed to be pretty good. Georgia Tech beat Clemson last year but we get em at home this year which should get us back on the winning side of that rivalry. Miami on the road could be pretty difficult. FSU is always the killer for Clemson, but I don't think they're gonna be that good this year so hopefully we can finally handle them. And of course, the big rivalry game at the end of the season is never easy (except last year) and now that we broke the losing streak against the chickens, I don't expect Deshaun to lose to them.
ACC Championship Game:
Playoffs:
National Championship:
I mean there's really no reason Clemson should lose a game this year. Undefeated natty champs. Suck it.
This one is definitely the best so hopefully you aren't tired of hype videos after the first two.
P.S. If that last video doesn't make your dick rock hard, what does?
P.P.S. Don't want, NEED that "Move Along" remix in the last video.
#GoTigers