Alright, I'm late doing this but I figured I should still go ahead and do it. The VMA's were Sunday night and it was another typical crazy VMAs. Some of it was good crazy and some of it was annoyingly awful crazy.
First off, Kanye's speech was hilarious because no one knew what he was talking about and then all of a sudden he saved it by saying he would run for president in 2020. I've never been a big fan of Kanye as a person and outside of Graduation, I don't even like his music too much (besides some obvious songs) BUT he's so absurd that I think I'm all in on him now. I mean even before his ridiculous speech, he was out there smiling and dancing. It was a whole new Kanye and I enjoyed it.
Tay and Nicki absolutely crushed their opening collabo that squashed all their
Twitter beef
.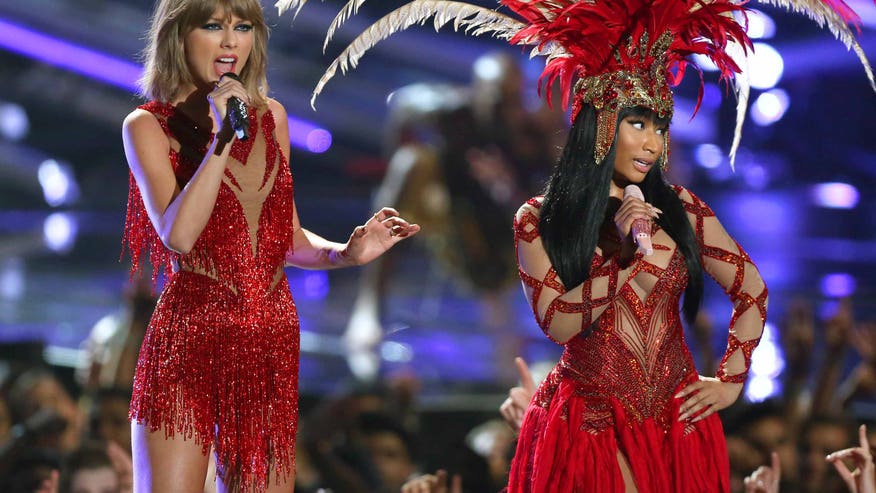 Also, Taylor Swift and Scott Eastwood should be an actual couple. Not just a music video couple. I like Calvin Harris but he's got nothing on Scott Eastwood.
Sidenote: Watch The Longest Ride with Scott Eastwood and Britt Robertson. A chick flick obviously but honestly, has anything ever written by Nicholas Sparks not turned into an absolute fire flames flick? (Hint: No. The answer is no.)
Next up, Macklemore's new song might be the worst song of all time. I'm not posting the link because I want to save as many people as possible from watching it if they haven't already. God he sucks. Just the worst.
Moving on, Britney Spears burned a hole through my TV screen.
"Yup, I still got it. Calm down."
Kanye wasn't the only one showing off the moves during The Weeknd's performance.
God those two are great.
Demi Lovato's "Cool for the Summer" performance was the hottest of the night. Coulda done without the Iggy Azalea appearance though. Also, a little bonus action is the actual music video for that song since I never blogged it but should have. Sexiest video I've seen in a while. Demi is starting to just drip sex and I love it.
Bieber absolutely killed it, then cried. Just left it all on the stage I guess.
WATCH HERE.
Kylie Jenner's the hottest Kardashian, no doubt about it. Wasn't even her best look, but she was there so I wanted to mention it.
Tori Kelly was UNREAL. Absolute FIRE from her. Just seizing the shit out of that moment.
Pharell still sucks. I'll spare you the video of that performance too.
Rita Ora still flies under the radar as one of the hottest chicks that shows up to these things. Seems like no one really cares who she is. The girl puts out bangers and is unreal hot so I don't get how she's so underrated.
This crew is absurd.
Oh, and the host, Miley Cyrus, suuuuuuuuuuucked. All she did was make weed jokes, dress like a whore, show us one of her nipples "accidentally" and then sang a song about how cool she is cause she smokes weed and likes peace. Hey Miley, this isn't the 60s. This isn't Occupy Wall Street. Most people have standards. Clearly you don't, which is cool (I guess...but not really) but wake up one time for me cause pretty much everyone else does. You can't just parade around the stage naked on national television and make a bunch of weed jokes and swear an insane amount just because you're "cool" and expect people to be okay with it. Miley SUCKED at her job on Sunday and I also lost all hope for her next album to be any good at all. Now I just expect it to be a bunch of marijuana tribute songs.
WATCH HER AWFUL PERFORMANCE HERE.
Sorry if I missed anything else noteworthy, but who's reading this anyway?