The dude in the gray will finally be back this Saturday against Georgia Tech. So long Cole Stoudt. As for the rest of the top 25, here we go. Terrific weekend of college football.
1. Mississippi State Bulldogs (vs. UT Martin, W 45-16): A nice little break from the SEC schedule. Got Alabama coming up.
2. Florida State Seminoles (vs. Virginia, W 34-20): FSU just keeps finding ways to win football games.
3. Auburn Tigers (vs. Texas A&M, L 41-38): Auburn won last week on a goal line fumble by Ole Miss and lost this week on a goal line fumble by themselves...And then fumbled again when they got the ball back.
4. Oregon Ducks (@ #17 Utah, W 51-27): Can't blame this one play for Utah losing but it had to be tough to overcome. Talk about a turning point.
5. Alabama Crimson Tide (@ #16 LSU, W 20-13 OT): Classic Bama/LSU matchup. Low scoring, overtime. Typical of these two, and Bama pulled it out. Great drive to tie it up after the LSU kicker kicked it out of bounds on the kickoff like an IDIOT. Love it.
6. TCU Horned Frogs (vs. #7 Kansas State, W 41-20): LOVE TCU. They have to move up quite a bit after this win. Kansas State is a really good team, and this was a great win.
7. Kansas State Wildcats (@ #6 TCU, L 41-20): Kinda pissed that these two had to face each other because I like both teams, but oh well. Tough loss for K State. Title hopes likely out the window now.
8. Michigan State Spartans (vs. #14 Ohio State, L 49-37): I had zero interest in watching this game which is good because I hate watching Ohio State win games.
9. Arizona State Sun Devils (vs. #10 Notre Dame, W 55-31): No idea why these two teams played each other, but on paper it was a marquee matchup. On the field, it wasn't.
10. Notre Dame Fighting Irish (@#9 Arizona State, L 55-31): Everett Golson was awful. Almost came back, but then went back to being awful.
11. Ole Miss Rebels (vs. Presbyterian, W 48-0): Sick Ole Miss.
12. Baylor Bears (@ #15 Oklahoma, W 48-14): Solid win for Baylor. Should jump up a couple of spots when the rankings come out on Tuesday.
13. Nebraska Cornhuskers: BYE
14. Ohio State Buckeyes (@ #8 Michigan State, W 49-37): Still think Ohio State blows.
15. Oklahoma Sooners (vs. #12 Baylor, L 48-14): Oklahoma's just falling apart. Embarrassing loss for OU.
16. LSU Tigers (vs. #5 Alabama, L 20-13 OT): Well LSU has a solid place kicker who gave them the lead with less than a minute left in regulation. But their kickoff specialist who kicked the ball out of bounds and set up Bama's game tying drive should be kicked off the team. Lol, get it?
17. Utah Utes (vs. #4 Oregon, L 51-27): Never an easy task taking on the #4 team in the country but it would help if you had wide receivers with brain cells.
18. UCLA Bruins (@ Washington, W 44-30): Still not sold on UCLA. At all.
19. Arizona Wildcats (vs. Colorado, W 38-20): Arizona needed to play a team like Colorado to bounce back from last week. Took em a little while to get things going but they had a nice second half.
20. Georgia Bulldogs (@ Kentucky, W 63-31): Surprised Georgia dropped so far since they're an SEC team, but oh well. They trounced Kentucky so they're alright.
21. Clemson Tigers (@ Wake Forest, W 34-20): It's gonna be fun to be excited to watch our offense again. Because I DESPISE Cole Stoudt and I can't stand watching the offense when he plays. Welcome back, Deshaun. Please go back to doing what you do best, which is annihilating defenses. Artavis Scott is a beast by the way. And our defense was stifling as per usual, despite some very uncharacteristic penalties. 14 of Wake Forest's points were directly related to a Stoudt interception (he loves throwing those) and an Adam Humphries muffed punt (he loves doing that).
22. Duke Blue Devils (@ Syracuse, W 27-10): Duke is 8-1 which is kinda weird. Looks like they'll be back in the ACC Championship to face FSU again.
23. West Virginia Mountaineers (@ Texas, L 33-16): Love that Texas got the win. Didn't think WVU was that good, all they got was the one upset against Baylor and have sucked since.
24. Georgia Tech Yellow Jackets (@ NC State, W 56-23): Tech leads the nation in yards per play and Clemson's D leads the nation in fewest yards per play. Something's gotta give on Saturday.
25. Wisconsin Badgers (@ Purdue, W 34-16): Welcome back to the top 25 Wisconsin. Melvin Gordon is still doing Melvin Gordon things. Ya know, rushing for 200 yards and a bunch of touchdowns.
This Saturday will see a lot more of this
And this
And this Aaaaand this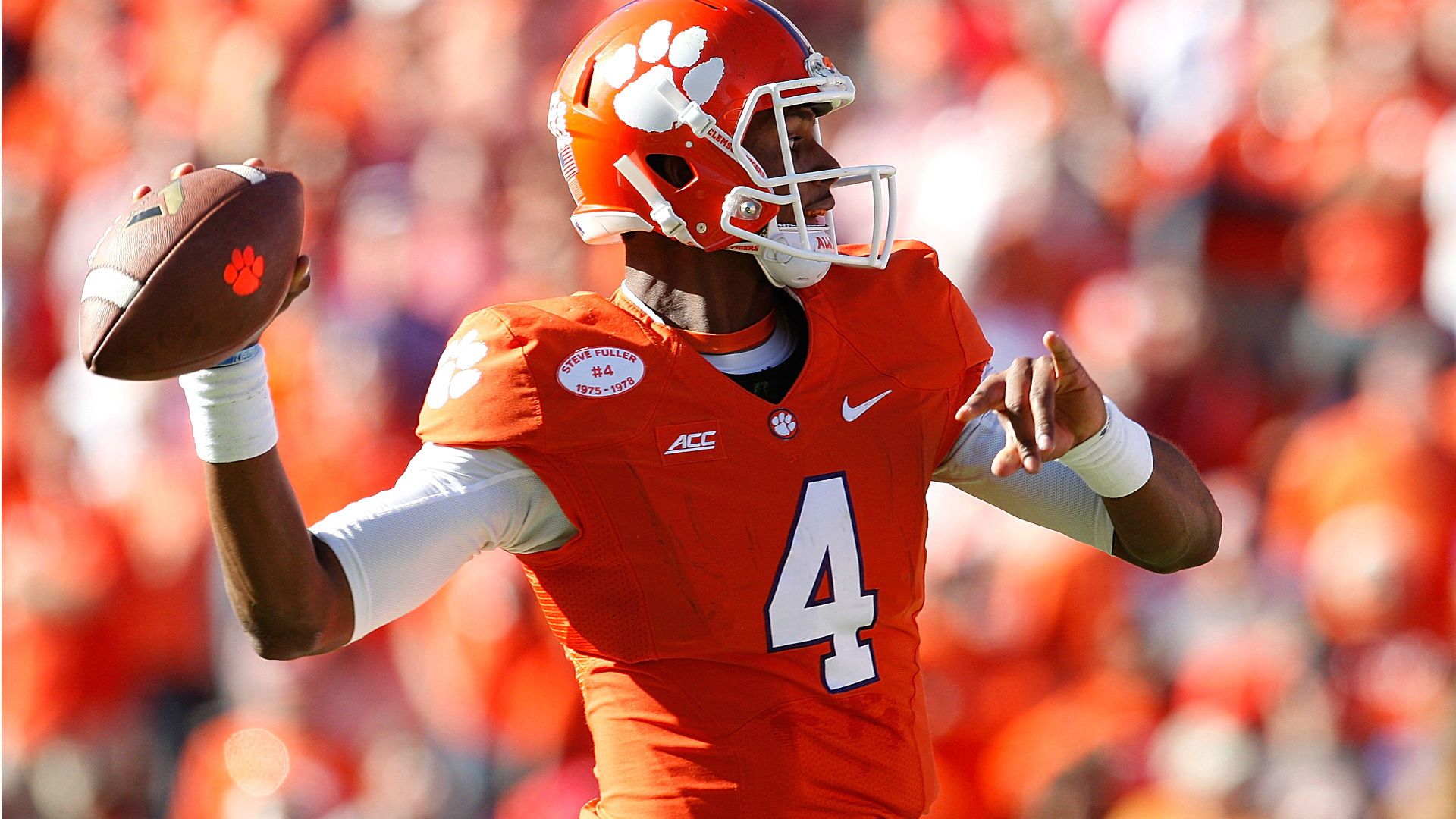 And especially this
You get the point. Deshaun is back baby!
#GoTigers