Week 10 was another terrific week of football with a considerable amount of surprising outcomes. I was stuck watching the Chiefs/Bills game which turned out to be a terrific game. The game was back and forth and it seemed as if the Bills could come away with the win but Alex Smith and the Chiefs had other ideas propelling them to a 17-13 win. It's tough watching football when your favorite team has a bye week, but there is always a couple games to keep you deeply entertained and this week was no exception. To the discussion.....
Crown The Brown
The Cleveland Browns defeated the Cincinnati Bengals 24-3 on Thursday Night Football in a game in which the Bengals were heavily favored, within reason. Browns quarterback Brian Hoyer completed the game completing 15 of his 23 pass attempts for 198 yards while the 3 touchdowns scored by the Browns came from a different running back each time. Terrance West, Ben Tate and Isaiah Crowell each scored for the Browns as they combined to rush for a total of 169 yards. The Browns dominated this game from beginning to end and the stat sheet is evidence as such. The Browns are beginning to show up and many people are starting to take notice, but how legit are they? Maybe my title is a little misleading, they still have a lot to prove as a team.
Honestly, when was the last time the Cleveland Browns were a legitimate team or even a respectable team in the NFL? 2002? The Browns have only had a winning record 3 times in the last 24 years and made the playoffs only twice in the same span. That's horrible. But this year the Browns are clearly motivated to turn a struggling franchise around and many hoped that young gun Johnny Manziel could be the face of the franchise for many years to come. As hopes became a sad reality, Cleveland Brown fans must come to a realization that current quarterback Brian Hoyer is, and should be their man throwing the ball. Hoyer has been terrific so far this year and until he decides to throw 3 interceptions a game or goes down with an injury, it is highly unlikely that we will see Johnny Football playing quarterback for the Cleveland Browns. If anything, Manziel fans should hope and even expect him to be traded in the offseason due his trade value. None of us may never know how good Manziel will be this year, but come next season we can only hope that a team like the Jaguars will take a shot at Manziel and give him the opportunity to shine or be a complete bust. Either way, the Browns would be rolling the dice by parting ways with Manziel mainly due to the fact that Hoyer being a solid quarterback is not written in stone and no one can say how Manziel will be as and NFL quarterback. I figured I had to add a good amount of chatter about Manziel if I talked about the Browns so there it is.
So this 2014 Cleveland Browns team is just straight up confusing and tough to analyse. Brian Hoyer is a good/mediocre quarterback who throws for few yards but still manages to come out on the winning end. Their defense is par as well, so what's the deal? The Browns have not had the most difficult schedule so far this season and that could explain how they are somehow in first place in the NFC Central despite the fact that all teams in the division have current record above .500. The Browns have both defeated and lost to the Pittsburgh Steelers who we have recently learned are not a consistently good team. Cleveland managed to beat the Saints in week 2 (granted they were playing bad early on) but lose to the Jaguars in week 7. Things like that make the Browns a very odd team but it's tough to deny the fact that they are in first place and continue to play well against good teams. They have a quarterback who has been playing well in Brian Hoyer as well as a deep running game with Ben Tate, Terrance West and Isiah Crowell all of whom can produce big yards for the Browns. Their defense is mediocre at best but can show up with big defensive stops in certain times. Plus with All-Star wide out Josh Gordon returning to the team in week 12(the man likes to smoke tree, let him toke up), the Browns gain an extraordinary weapon in their pursuit of the playoffs and beyond.
It's odd to hear the Browns in first place in such a tough division although the division is completely up for grabs with 7 weeks of football yet to be played. I personally think that the Browns will not be able to hold their position up top and that either Baltimore or Cincinnati will eventually take the division. The Browns take on the Houston Texans this Sunday which should be a terrific matchup against a Texans team that is only 4-5 but has lost many close fought games against good teams. Expect a close game here and although I visualize the Browns being such an odd team, they are good enough to be able to handle the Texans.
Colossal Chiefs This is the last team that I want to appraise but it has to happen. As a division rival of my beloved San Diego Chargers, the Chiefs are a team that I despise but respect. The Chiefs won a hard fought battle against the Buffalo Bills on Sunday 17-13 in a game that could have gone either way. Each team hung tough but the winner would was crowned solely based on who turned the ball over less, and the Chiefs did just that.
Both teams are having good years but the Chiefs are a team that should scare not only myself. They have tremendous talent and it is starting to show this year although last year was a great year for Kansas City as well. Head Coach Andy Reid has done nothing but positive for this team ever since taking over the head coaching position. He is a terrific motivator as well as a genius calling plays for the team. This Chiefs team looked mediocre at best during the first few games of the season but they are starting to show their fangs lately. Starting quarterback Alex Smith has been a great quarterback for the Chiefs and even the 49ers, despite getting benched for Colin Kaepernick. I think Smith has tremendous talent, he is extremely mobile around the pocket and has an extremely accurate arm. The entire game against the Bills, Smith was pressured yet he still managed to find an open receiver or even run for a first down. I think Alex Smith can become one of Kansas City's most reliable quarterbacks they have had in a long time. Alex Smith is not the Chiefs only weapon at their disposal. The Chiefs contribute a lot of their offensive power to running back Jamaal Charles, who in my opinion is within the top 5 best running backs in the league without a doubt. Charles is a tough and explosive running back who knows how to run the football. He is extremely quick and he can run over defenders as well as knowing how to get an extra yard with his effort. Jamaal Charles is a weapon that the Chiefs need to continue to utilize in order to continue to win football games. The Chiefs offense is not their only attribute. The Chiefs have an outstanding defense this year and there is not a soul that exists that can argue with that. The Chiefs allow the least amount of pass yards per game as well as allowing the 5th least rushing yards per game. Statistics never lie, and the Chiefs defense is definitely something to fear for opposing offenses. The only thing that is lacking for this Chiefs team is a good secondary wide receiver. Alex Smith cannot continue to look for Dwayne Bowe each throw because secondaries will adjust to favor coverage on Bowe.
I still feel like a douche for giving the Chiefs so much praise, but they deserve it right now. As a Chargers fan I can do nothing more than accept the fact that this team is a direct threat to the Chargers odds of making the playoffs. With Denver sitting in first place in the division and Kansas City sitting pretty in the second spot, the Chargers need to make some moves in order to snag a wild card spot or hopefully knock off Denver to take the division. With Kansas City playing this well, I can only fear for my team. But hey, that's what makes sports great. The Chiefs will play the Seattle Seahawks next Sunday. This should be an absolutely outstanding matchup between two teams with great defenses and powerful runningbacks. Looking at these two teams right now, it's impossible to give an advantage to either team. If I am forced to give a winner, I think the Chiefs will pull out this victory. Jamaal Charles will run over the Seahawks defense and Alex Smith will find gaps in the Seahawks secondary enough for the Chiefs to come away with the win.
Fly Eagles Fly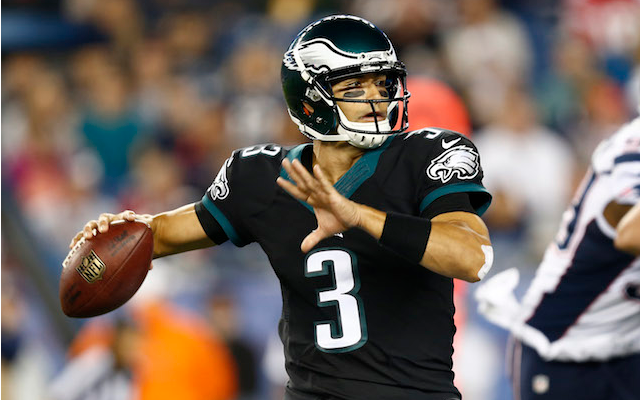 The Philadelphia Eagles are another team that I am not completely sold on. The Eagles crushed the Carolina Panthers 45-21 Monday night mainly due to the terrific showing of Eagles quarterback Mark Sanchez. With starting quarterback Nick Foles currently out due to injury, Mark Sanchez has started the last two games for the Eagles and has been nothing less than great. Last night against the Panthers, Sanchez completed 20 of his 37 pass attempts for 332 yards and 2 touchdowns. Despite star running back LeSean McCoy rushing for only 19 yards on 12 carries, the Eagles still managed to dominate the Panthers. The Eagles now sit in first place of the NFC West with a record of 7-2
The recipe for the Eagles success is mainly due to someone stepping up big time and contributing to the team when needed. When the Eagles needed LeSean McCoy to have a big game, he would. More recently, Mark Sanchez has been that guy. When Nick Foles was injured many presumed that the Eagles would suffer greatly due to having to play the backup quarterback. Sanchez has fit into Foles shoes greatly and the Eagles offense has not slowed down a bit. Everyone knows Mark Sanchez and his history with the Jets. BUTT FUMBLE!!! No one will ever forget the butt fumble. More importantly, will Mark Sanchez be able to continue his success at quarterback while Nick Foles is presumably out for the season? That is the million dollar question that everyone is anticipating. There is no doubt that the Eagles have the tools necessary to bring them to the playoffs and even get to the superbowl, but how will Mark Sanchez keep the team in order? LeSean McCoy is without a doubt an all-star caliber runningback and wide receiver Jeremy Maclin is another terrific weapon for this Eagles offense. It is essential for this team to continue to get Mccoy involved early regardless of how many yards he gains on the ground because the fact of the matter is that once the pressure gets put on Mark Sanchez to pass the ball in times of need, there is no telling the outcome. I have always thought that Mark Sanchez is a good quarterback with tremendous talent (although hes kind of a pussy), and I guarantee that the Jets wish they kept him this season with all of the quarterback woes they are having this season (Although Michael Vick looked like his old, dogfighter self last Sunday against the Steelers). I am not sure where this Eagles team is headed with Mark Sanchez as quarterback, but if can continue to produce then this team can go far in the playoffs.
The Eagles will face Aaron Rodgers and the Green Bay Packers on Sunday. The Packers just embarrassed the Chicago Bears while Aaron Rodgers threw for 6 touchdowns in the first half. This game should be a must watch coming into Sunday and there is no doubt that I will be watching this match up as all of you should as well. I can guarantee one thing, I am pouring my money on the over line for this game as it should be a high scoring affair. As I stated before, the fate of this Eagles team lies solely in the hands of Mark Sanchez. Can he deliver? Stay tuned.
Week 11 Upset Alert: St.Louis Rams defeat the Denver Broncos
Yeah, I just predicted this. This week is really tough as there aren't many teams that are underdogs but I really like the Rams. Sure they are only 3-6 and the Broncos are powerful but I have to be bold. I thought the Rams played great last week until the last few minutes of the game against the Cardinals where they turned the ball over twice in the last quarter. Despite the costly turnovers late in the game, the Rams held their own against a solid Cardinals team. As for the Broncos, Peyton Manning threw two interceptions early against a less than par Oaklard Raiders defense. I think the Broncos are due for a tough loss and the Rams are more than ready to fulfill that. The Rams have a good defense that is ready for the challenge.
Rams-20
Broncos-17