Well, this happened Saturday and I
wrote about the fact that it was going to happen
on Friday, but here I am at 11 pm (finished at 1 am due to festivities) on Monday, my birthday, kinda tipsy to break it down. And lemme tell you, I'd pay money to have Katy Perry on College Gameday EVERY SINGLE weekend. Passionate, hilarious, hot...basically everything you want in a person just fuckin owning the Gameday set on Saturday morning in Oxford. God knows what she was wearing and who planned her hair style, but who cares? Are you telling me you don't love Katy Perry just because she's got some fur on her with her hair in a double bun thing? If you try to sell me that bullshit, I'll punch you in the mouth. Get outta here. LOVE the throwing the corn dogs when picking against LSU. NO idea what that means, but I loved it. And then just throwing the rest when Lee Corso picked Bama. Bringing out the giant fuckin pencil to make fun of Corso was an instant classic just because she thought it was such a defiant move against the Gameday societal norms. Which it was. But I loved that she knew that more than I loved the actual move. Kirk saying "she's got a big pencil there" was hilarious, too. And don't even get me started on her taking the elephant off of Corso's head. Has anyone ever done that to him? I mean, sure Bill Murray knocked him down and beat him last year in Tiger Town, but has anyone actually ever taken the head gear off his head and thrown it to the side? Not sure, but I loved it.
During the TCU vs. Oklahoma pick, "Is this the one with the Cocks in it?" Funniest thing ever said?? Most likely. Love it. For all sorts of reasons. Love it cause Katy said it. Love it cause it made no sense. Love it cause she was referring to South Carolina. Love it cause they ignored the South Carolina game. Love it cause South Carolina lost to Kentucky (LOL).
EVERYTHING and I mean EVERYTHING about this Gameday was perfect. Katy was hilarious and pretty good at making picks, too. Apparently she loves Trevor Knight and that is absolutely why he and OU lost to TCU. Too distracted. And the guys on the set called it. Herbie saying "his life just changed forever." Truest statement ever made. I would stop trying at life if Katy Perry had a crush on me. Are you kidding me? That's a winning life if you've managed to get attention from Katy Perry. Good Lord.
And how she celebrated the Ole Miss win in Oxford was great. Absolutely awesome.
Some of my favorite moments from the Gameday set though:
The look on Chris Fowler's face when Katy mentions Trevor Knight...Oooooh
What's with the corndogs KP? Who knows. Love it.
Love that girl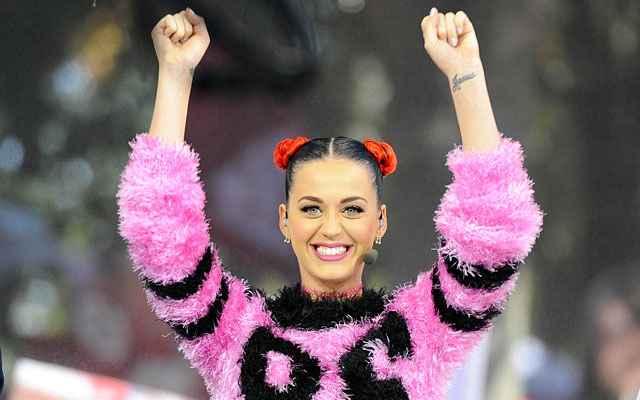 P.S. Chances there's alcohol in Katy's coffee mug? 1,000 percent.