 There were better games this week than Clemson's but I've resorted to making the headlining photo a pic of Deshaun doing something ridiculous since he does it every week. But, in fact, it was the best weekend of college football so far this year and might end up being the best this year. Upset city all around. Let's get started.
1. Florida State Seminoles (vs. Wake Forest, W 43-3): Laughed out loud when I saw the halftime score of 13-3, but then they put up 30 in the second half.
2. Oregon Ducks (vs. Arizona, L 31-24): Aaaaand Oregon chokes again, but I don't hear any "Oregoning" phrases being tossed around. Thought Mariota would lead a comeback and then remembered he fumbles every time the game's put on his shoulders in the final 2 minutes.
3. Alabama Crimson Tide (@ #11 Ole Miss, L 23-17): What a game. Didn't see most of it since I was at the Clemson game, but what a scene after the game was over. Incredible stuff down in Oxford.
4. Oklahoma Sooners (@ #25 TCU, L 37-33): Another insane game. Who woulda thought TCU would be the ones to take down OU? Trevor Knight was probably too distracted at the fact that Katy Perry is totally in love with him. Can't blame the guy. I probably woulda gone straight to Oxford when I heard that if I were him.
5. Auburn Tigers (vs. #15 LSU, W 41-7): I knew Auburn was good, but didn't know they were "41-7 over LSU" good.. Also, maybe LSU isn't that good I guess?
6. Texas A&M Aggies (@ #12 Mississippi State, L 48-31): A&M didn't look good really at all on Saturday, but at least the back up QB was spittin game to a dime on the sideline.
7. Baylor Bears (@ Texas, W 28-7): Texas was able to hold the Baylor juggernaut of an offense to 28 points, but just couldn't score. Bryce Petty did NOT look good though.
8. UCLA Bruins (vs. Utah, L 30-28): This is just embarrassing. Losing at home to Utah? Wow. Give credit to the Utes though.
9. Notre Dame Fighting Irish (vs. #14 Stanford, W 17-14): Coulda guessed this final score. What a play to get the win by Notre Dame though.
10. Michigan State Spartans (vs. #19 Nebraska, W 27-22): MSU almost blew it after being up 27-3 in the fourth quarter, but a late pick sealed the deal. Honestly thought Nebraska was gonna win it on that final drive.
11. Ole Miss Rebels (vs. #3 Alabama, W 23-17): Quality win I guess. Good for them though. It's been a while since Ole Miss was relevant so they'll probably blow it in a couple weeks.
12. Mississippi State Bulldogs (vs. #6 Texas A&M, W 48-31): The state of Mississippi is probably getting the entire week off from work. Probably won't help with the obesity problem in the state, but oh well.
13. Georgia Bulldogs (vs. Vanderbilt, W 44-17): Vandy sucks.
14. Stanford Cardinal (@ #9 Notre Dame, L 17-14): Tooough loss for the Cardinal. But that's what you get when you consistently only score in the teens.
15. LSU Tigers (@ #5 Auburn, L 41-7): Like I said, maybe LSU isn't as good as they have been in recent years. Auburn is good, but there's no reason you can't compete with them other than the fact that you suck.
16. USC Trojans (vs. Arizona State, L 38-34): USC got a taste of their own medicine with that Hail Mary. Except this Hail Mary ended the game and stunned everyone in the crowd, and could have been avoided completely if that idiot jumped up to bat the ball down instead of trying to field it like a punt.
17. Wisconsin Badgers (@ Northwestern, L 20-14): You'd think that there's absolutely no way Wisco could lose when Melvin Gordon runs for 260 yards, but I guess they found a way.
18. BYU Cougars (vs. Utah State, L 35-20): BYU had the best chance of any team in the country to go undefeated. Well, there goes that theory. And their QB no longer has one of his legs.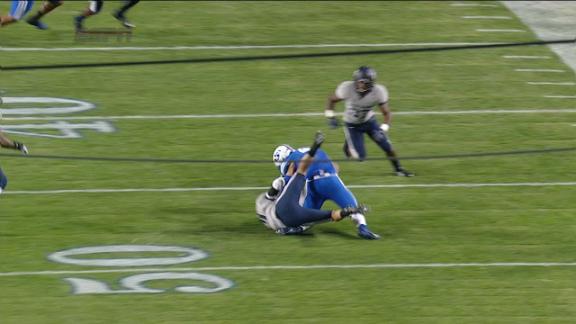 19. Nebraska Cornhuskers (@ #10 Michigan State, L 27-22): I was rooting for that comeback, but that shitty throw ruined it. Love their fight though. Down by 24 on the road in the fourth quarter against a top 10 opponent. Not a lot of teams find their way back into that game and have a chance to win.
20. Ohio State Buckeyes (@ Maryland, W 52-24): Meanwhile, Ohio State is playing Maryland.
21. Oklahoma State Cowboys (vs. Iowa State, W 37-20): Nothing to see here. Iowa State blows.
22. East Carolina Pirates (vs. SMU, W 45-24): SMU is 0-5 so this win doesn't mean much to ECU, I'm sure.
23. Kansas State Wildcats (vs. Texas Tech, W 45-13): Didn't Texas Tech start last season like 8-0 with a freshman QB? And now they've won like 2 games since. Some kinda turnaround.
24. Missouri Tigers: BYE
25. TCU Horned Frogs (vs. #4 Oklahoma, W 37-33): What a win for TCU. Love it.
And as for my Clemson Tigers:
Clemson 41, NC State 0: Complete domination, especially in the first half when we actually played our starting quarterback. Deshaun continues to show why he became the starter by doing ridiculous things. Mike Williams had a huge game with two receiving TDs, and Vic Beasley had the best play a defender can have, with the sack, fumble, TD combo. Can't wait to be back in the Valley this Saturday for the third straight week. Louisville blows.
#GoTigers #Deshaun4Heisman