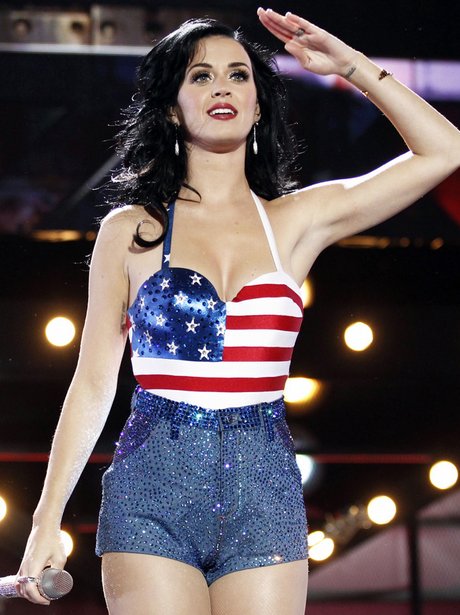 ESPN
:
Pop star Katy Perry will be the halftime performer at Super Bowl XLIX, according to multiple reports.
The game will be played Feb. 1, in Glendale, Arizona.
The Wall Street Journal reported in August that Perry, Rihanna and Coldplay were asked if they were interested in playing the Super Bowl. The newspaper also had reported that the NFL was looking for artists to pay up to perform at the game, which draws massive ratings.
Perry, in an appearance on ESPN's "College GameDay" on Saturday, said she's "not the kind of girl to pay to play the Super Bowl."
A record 111.5 million viewers watched last season's Super Bowl between the Seattle Seahawksand Denver Broncos, during which Bruno Mars performed at the half.
Aaaaand I'm off to Arizona come February. What a move by the NFL. After everything negative going on in the league right now, they reel in the biggest, hottest star on the planet to play at halftime of the Super Bowl. I've loved Katy Perry for a while now, but when I watched her on
College Gameday
last week, it was the greatest thing ever. And I'm sure the NFL watched it too. They said this is the girl we want at our halftime show, it needs to be done. She doesn't wanna pay to play, but let's abandon that plan for this year. She HAS to play. And KP just refusing to give the people what they wanted last Saturday by saying she wasn't gonna pay to play. She played her cards right though. Probably said to herself "I'm gonna say I don't wanna pay, then be the cutest thing they've ever seen right on national television and they'll have to pay me to do it." Roger Goodell probably got on his hands and knees and begged her to play after seeing her on Gameday. They saw what perfection was, and perfection is Katy Perry throwing corn dogs right in our faces.
I think this is still my favorite song of all time. Love for her to play it at the Super Bowl.