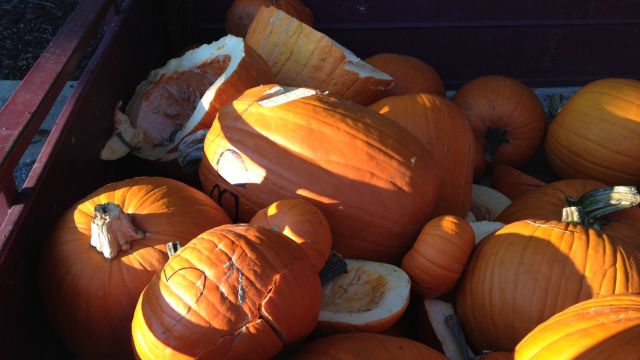 FOX
:
SPARTANBURG, SC (FOX Carolina) -
Hundreds browse the pumpkin patch at St. Matthew's Episcopal Church in Spartanburg each year.
It's a tradition that started nearly 20 years ago.
"It's always a special time to see that they have the pumpkins," said Teresa Talbert, who stopped by the patch Tuesday afternoon as she has for the past seven years.
"It always does good when you pay it forward," Talbert said. "I'm sure the church is doing this for a good cause."
Money collected from the sale of pumpkins is donated to several ministries throughout the Spartanburg community.
The patch offers a variety of pumpkins, but now a cart is stacked with dozens of destroyed pumpkins.
Angela Viney, senior warden at the church, said church members found slashed and smashed pumpkins throughout the pumpkin patch.
"There were some thrown up against the wall of our church," Viney said. "There was also some damage to the wooden cut-outs that we use."
Viney said the deep cuts could mean a slash in the church's pumpkin proceeds because damaged pumpkins will rot and won't be sold.
"So, it's sad that someone would jeopardize what we're trying to do here," she said. So now police are keeping an eye on the pumpkin patch and reviewing surveillance video from church cameras and a nearby bank.
"So stop and consider what you're doing- not only to a church, but also to your community," Viney said.
What's this world coming to? Can't even set up an annual pumpkin patch every October without it getting vandalized by a bunch of hoodrats. These people are legitimately hurt by the fact that someone would take the time to destroy a church pumpkin patch. I mean it does offer a variety of pumpkins, but now they're just ruined! But okay, you got the pumpkins, we'll get over it, just don't go after the wooden cut-outs. What? They fucked those up too? What kind of person would do such a thing? A BAD. ASS. That's who. And they're so worried about these vandals that they're putting cops on duty to just watch the pumpkin patch. If there were ever a time for a serial killer to go on a spree, it would be now. Don't have time to catch the killer, gotta watch the pumpkin patch.
P.S. Gotta be some atheist cult doing this, no?
P.P.S. Put Angela Viney on suicide alert.