Hockey season is upon us and Luke and Alex have been giving previews of every team in the NHL. The Pens are my team though, so I'm gonna do this one. I'll try to sound intelligent, but I am the first to admit I don't know nearly as much about hockey as Luke and Alex. Not even close. However, I've gotten into hockey quite a bit the last few years and I'm liking it more and more every year so hopefully I can get a little more hockey knowledge in me this year.
So this offseason wasn't a complete clean house operation, but GM Ray Shero and head coach Dan Bylsma were both let go, and our defensemen basically all signed with Washington. Personally, I liked what Shero did at the trade deadline every year, but we haven't won since 2009 so changes have to be made at some point. Same with Bylsma. When I watched games, I liked the guy. An astute hockey fan would probably tell me I'm an idiot, but oh well. And as far as the two defensemen that went to Washington (yeah I was exaggerating earlier) , I thought Matt Niskanen was reaaaally good for the Pens last year. Brooks Orpik was alright, usually the hardest hitter on the team I think. But I guess that isn't saying much, Pit doesn't really have a reputation for being a hard hitting team.
Some other key departures include James Neal and Jussi Jokinen, among others, who were key goal scorers last year for the Pens. Jokinen was pretty huge in the playoffs, seemed like he was the only one scoring goals.
The new head coach is Mike Johnston who was hired by new GM Jim Rutherford. Don't know much about either to be honest, other than that Johnston has never been a head coach in the NHL and Rutherford is the former Carolina Hurricanes GM.
(Johnston)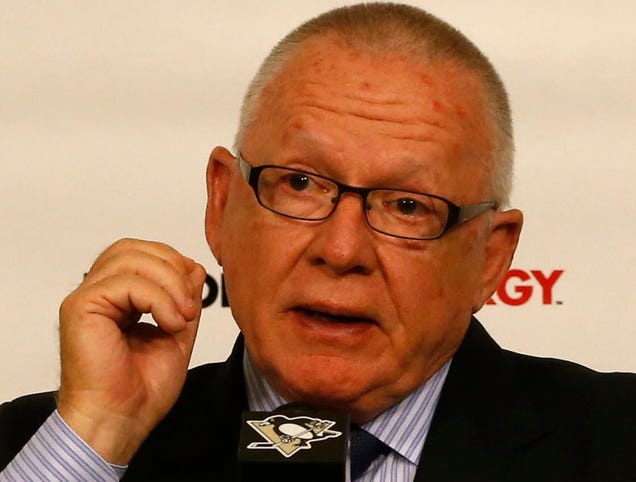 (Rutherford)
Key on-ice additions include Patric Hornqvist, Nick Spaling, Christian Ehrhoff and Thomas Greiss. Hornqvist will be key when it comes to scoring around the net. He has much better net presence than Neal. Spaling will be an upgrade on the third line. Ehrhoff will be a top defender who can replace both Niskanen and Orpik. I was pretty pissed when I heard Niskanen and Orpik left, but I did a little research on Ehrhoff and I wasn't all that upset anymore. Dude sounds pretty good. And Greiss will be an upgrade at back-up goaltender.
As for the outlook on the season, here are some of the players that will have the most impact for the Pens.
Can't believe I've gotten this far and haven't even mentioned The Kid yet. Dude's a beast. Two-time Hart Trophy winner, pretty much won every award last year. Need him to be huge again this year obviously, but more than that he needs to be huge in the playoffs.
It's not often you have two MVPs on the same team, but that's what Pittsburgh has. Need Malkin to be healthy all year and just as productive as Crosby this year. Imagine if Crosby and Malkin were putting up identical numbers all year? See ya, rest of the league. Probably won't happen though...One can only hope.
Kunitz had a solid year last year, scoring 35 goals. People say he's not that good and he just reaps the benefits of playing alongside Crosby, but do you think I give a shit why he's scoring? No. I just care that he's putting the puck in the net.
Wait, where is the Flyers dude? Legit think Letang ripped his head off. Oh well. Anyway, I would love for Letang to be healthy for the whole season and not having strokes and shit. If he can keep up his goal scoring ability as a defenseman and be a little more consistent on defense, it would be pretty key for the Pens. He's incredibly talented, just needs to have the right attitude sometimes.
For some reason I love this dude. Could be his hair, but it could also be because he's only 20 and is a rising star in this league. I think he's gonna be real good. But seriously, look at that hair. Like who else pulls that off? Looks like the kid from Stuart Little and Jerry Maguire.
This is a no brainer, clearly. Need the goalie to be solid. Which Fleury was last year. He bounced back nicely from the HORRENDOUS 2013 Playoffs and had a good year and was solid in the 2014 playoffs. Wasn't his fault the Pens forgot how to score. Hoping for more of the same, and even better would be much appreciated from the Pens faithful.
PREDICTION: I think the Pens will end up with around 105-110 points, similar to last year, probably good enough to win the Metropolitan Division in the Eastern Conference. That's what having the two best players in the league will do. But will they have enough depth to make a deep playoff run? The rest of the hockey world probably says no, but fuck it. They're taking the Cup back to Pittsburgh where it belongs.