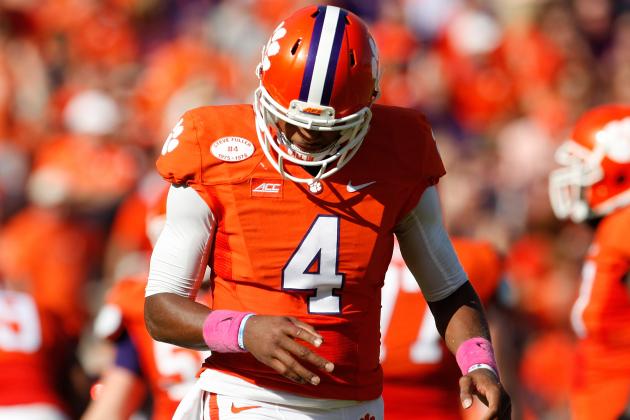 Following the epic Week 6, Week 7 had some more big matchups but the games weren't as good. Doesn't mean we can't break it down for ya. Pretttttttty upset about Deshaun getting injured, but we'll be alright. Here we go with the top 25:
1. Florida State Seminoles (@ Syracuse, W 38-20): Jameis Winston looked really good but Cuse could make anyone look really good. Wasn't enough for the Noles to retain that number 1 ranking though.
2. Auburn Tigers (@ #3 Mississippi State, L 38-23): Missed all of this one cuz of our game, but it just seems like Mississippi State is really good, and no one's gonna stop them as of right now.
3. Mississippi State Bulldogs (vs. #2 Auburn, W 38-23): I see you Dak Prescott. You got the nation's attention now. Number 1 ranking for the first time in school history is pretty impressive considering they weren't ranked to start the season.
3. Ole Miss Rebels (@ #14 Texas A&M, W 35-20): Well, Ole Miss looked pretty damn good at A&M. Tough place to play and they basically never let the home team in the game.
5. Baylor Bears (vs. #9 TCU, W 61-58): I don't know how the Bears came back cuz I only got back in time to see it was 58-58 but I imagine it was pretty impressive. I thought that kicker was gonna miss but 28 yards is under his career high of 29 so he drilled it.
6. Notre Dame Fighting Irish (vs. North Carolina, W 50-43): No one has had problems putting up points on UNC this year so that was no surprise. What was somewhat surprising though was that UNC put up 43 against a really good Notre Dame defense and was in the game the entire time.
7. Alabama Crimson Tide (@ Arkansas, W 14-13): Arkansas has been tough for opponents all year but have nothing to show for it in the SEC. Bama narrowly escaped and I gotta imagine Saban is tearing the team a new one this week.
8. Michigan State Spartans (@ Purdue, W 45-31): Purdue sucks and put up 31 on MSU's defense. Puzzling.
9. TCU Horned Frogs (@ #5 Baylor, L 61-58): Well fought on the road, but they blew a big lead in the 4th quarter and that's inexcusable.
10. Arizona Wildcats (vs. USC, L 28-26): How do you follow up beating Oregon on the road and landing a top 10 ranking? Lose to USC at home, of course.
11. Oklahoma Sooners (vs. Texas, W 31-26): Texas almost came back but OU had too big of a lead in the 4th quarter for it to happen. Wasn't an impressive bounce back win though.
12. Oregon Ducks (@ #18 UCLA, W 42-30): Impressive rebound by the Ducks.
13. Georgia Bulldogs (@ #23 Missouri, W 34-0): Gotta say I'm impressed by UGA. Shutting out a top 25 team on the road is pretty damn hard. And without Gurley too.
14. Texas A&M Aggies (vs. #3 Ole Miss, L 35-20): Tough getting Mississippi State and Ole Miss back to back, but if you're A&M you gotta find a way to win one of them and they lost both. And neither were close.
15. Ohio State Buckeyes: BYE
16. Oklahoma State Cowboys (@ Kansas, W 27-20): Beating Kansas by one possession isn't impressive at all.
17. Kansas State Wildcats: BYE
18. UCLA Bruins (vs. #12 Oregon, L 42-30): The Bruins have lost two in a row at home now after starting undefeated. Sucks for them.
19. East Carolina Pirates (@ South Florida, W 28-17): Thought they might lose for a little while, but then it really suck in that they were playing USF so I dismissed that thought.
20. Arizona State Sun Devils: BYE
21. Nebraska Cornhuskers: BYE
22. Georgia Tech Yellow Jackets (vs. Duke, L 31-25): See ya rankings.
23. Missouri Tigers (vs. #13 Georgia, L 34-0): Good game Maty Mauk.
24. Utah Utes: BYE
25. Stanford Cardinal (vs. Washington State, W 34-17): Nice.
And for my Clemson Tigers:
Clemson 23 Louisville 17: What a blood bath. Deshaun was struggling for the first time this year against a really good Louisville defense even before he got injured. Louisville barely got anything going on offense though. Both teams combined were 3 for 33 on third downs. That's insane. We didn't even score an offensive touchdown. Adam Humphries had his first career punt return that didn't result in a fumble or a loss of yards when he took the first punt 72 yards to the house. Place went NUTS. Then we had a sack fumble touchdown for the second straight week and three field goals. My heart skipped a beat when Louisville almost won it, but a game saving play by Jayron Kearse and then a goal line stand won it for us. Love our defense. Possibly the loudest I've ever heard Death Valley. Several times while I've been here are comparable, but it was incredible on Saturday. Beginning of the South Carolina game two years ago, safety in the Georgia Tech game two years ago, Georgia game last year, and the beginning of the FSU game last year are four times that mighta been beat by the Louisville game on Saturday. So thanks for that Bobby Petrino, who thought that Syracuse's lame, quarter-filled dome was just as loud as Death Valley. Also, for people who think we rushed the field for beating Louisville, they let people on the field after every game. It seemed like students rushed the field, but we were just really pumped up after the goal line stand and were extra excited to go onto the field after the game.
#GoTigers #Pray4Deshaun