Clarion-Ledger
:
OXFORD -- College GameDay in the Grove just added, dare we say it, Fireworks?
Pop star Katy Perry will be the celebrity guest picker on Saturday when ESPN's pregame college football show is live from Ole Miss for the first time.
ESPN spokesperson Keri Potts Tweeted the news Thursday afternoon, hours after GameDay analyst Kirk Herbstreit threw Perry's name out as an option. AND THEN PERRY RESPONDED
Wait, Katy Perry? Why? How?
Perry will be playing Memphis on Sunday, and Saturday is an off day. That's No. 1. No. 2: her manager, Bradford Cobb, is a 1996 graduate of Ole Miss. He's worked with her since she was 19 years old, and has helped guide her to the point where she's one of the biggest music stars on the planet. No. 3:
She was once photographed wearing an Ole Miss jersey.
There was a rumor earlier in the week that Perry would be at the game between No. 11 Ole Miss and No. 3 Alabama on Saturday (2:30 p.m., CBS). It turned out to be true, and now she's a part of the show.
Alright, well that's settled. I'm going to Oxford tomorrow. Forget Deshauny Heisman goin off in Death Valley, I got priorities. And Katy Perry is one of them. Just when you think she can't get any better, she's a huge football fan and is willing to just show up to guest pick the games with Kirk, Corso and crew. Love it. Ole Miss is a weird team to like though for a girl from Cali. Woulda pegged her as a USC or UCLA fan. Oh well. Can't really knock the Rebels.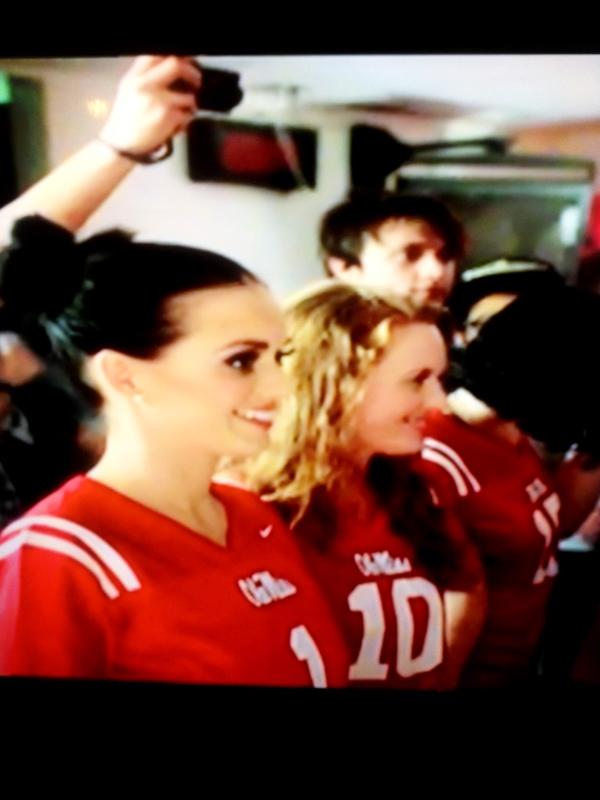 Little overkill on the pics? I don't think you can ever get enough of Katy Perry but I gotta stop somewhere.
However, I would be remiss to not share a song here too.
That international smile is flying her to Oxford tomorrow and you can bet I'm setting my alarm to get up to watch her make her picks.